Whether you're a beginner or a professional, a durable chainsaw is every wood worker's need. Eventually, it all comes down to determining your needs and choosing the right product, which often isn't a walk in the park, given the intense competition in the market. Regardless, the best beginner chainsaw for you is something that should allow you to experiment and stay flexible without fearing major damage to your project. This is where it becomes important to highlight that choosing such a product is more complex than merely cutting a tree. Hence, this precise yet detailed guide is aimed at achieving exactly that. Keep reading because our reviews will surely help you take the first step towards finding the right chainsaw for your needs.
5 Best Beginner Chainsaws
1. CRAFTSMAN (CMCCS 620 M1) V20 Cordless Chainsaw
ASIN: B07KKC6RHH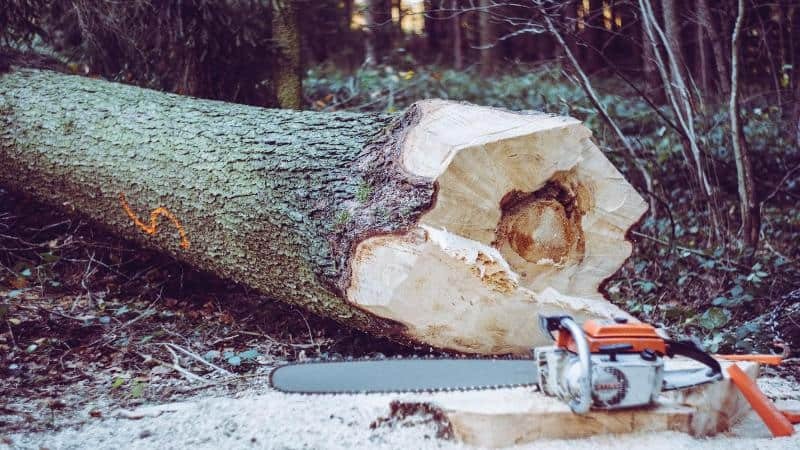 This Craftsman cordless chainsaw is by far one of the most preferred products among consumers, and often for good reasons. For one, it's budget-friendly. However, that's only the icing on the cake because it also comes with an auto-oiling system, a chain brake, tool-free chain tensioning, and a strong motor to ensure that there's minimal maintenance involved. What makes it the best beginner chainsaw is the fact that it features a 4.0AH lithium-ion battery that can operate for extended periods of time. The cherry on top, it also has a three-year limited warranty. Again, you may want to think twice before purchasing it if safety features are a top priority.
2. Oregon CS1500 Electric Beginner Chainsaw
ASIN: B00OIZ1XHW
The primary feature that marks this high-power electric chainsaw's supremacy is the built-in chain sharpener. If you've just stepped into the world of woodworking, then you may likely be looking for a saw that has a decent running time, and that's exactly what the product promises. Thanks to the reduced chain friction, the saw can be operated for an extended period of time. Furthermore, if you aren't a fan of shrill noise while working, then this is the perfect choice for you, especially for trimming branches of large trees in the yard. However, here's the real deal. You can save a significant amount of hassle and time with the option of starting it instantly without oil or gas mixing, and given the ergonomic design and lightweight features, the machine is much easier to handle and balance. The only downside you may come across is that the chain needs correct tensioning, or there's a chance for it to slip off.
3. Greenworks BL Chainsaw
ASIN: B00DRBBRU6
At only 10.36 pounds, this one surely takes the crown for being one of the most lightweight chainsaws out there. However, it is much better suited to smaller applications, which is what a beginner most likely would like to focus on. The best feature this product has is its ability to cut hardwoods faster than a gas-powered chainsaw. Then, there's the variable speed trigger that gives you the ultimate control and the M18 fuel technology that allows the unit to reach full throttle. If longevity is a concern, don't worry because it's made out of stainless steel, making it strong enough to deal with any external factors. As an amateur, you may not entirely be up for long hours of cleanup after getting the job done, which is why this saw is highly recommended since the cleanup is pretty easy and effortless.
4. Echo CS-590 20″ Timber Wolf Chainsaw
ASIN: B00CHRP8XS
The Echo Chainsaw is perfectly capable of dealing with both professional and domestic circumstances. Thanks to its efficient blades, it can be put to work in almost every situation. Since it runs on fuel, the tank has a reasonable capacity to allow you to get work done, even if it lasts for hours. However, what truly makes it the best beginner chainsaw is the fact that it has an automatic oiler system to keep the chain and blade lubricated throughout. There's nothing more praise-worthy in a saw than a decompression valve that makes it easier to start and operate the motor whenever you pull on the cord. Again, it isn't without its downsides. The machine does not have a tool-less chain tensioning system.
5. Makita XCU04Z LXT Beginner Chain Saw
ASIN: B07781633N
This cordless chainsaw is the right balance between a small and a large-sized product, making it a perfect fit for a beginner, especially if they're looking to work on a bunch of domestic tasks. Furthermore, if you wish to replace your corded equipment with cordless equipment, then you should get your hands on this one immediately. This machine promises zero emissions, thanks to its brushless chain, and you can also save up on all the blood, sweat, and tears that go into maintaining it since there are only a few features to maintain. Then, there's the LED on/off switch that powers off automatically following the completion of your work.
Our Final Thoughts
All in all, choosing the right chainsaw isn't only essential to completing the task at hand effectively but also to save yourself from the hassle of undergoing physical and emotional stress. Hence, make sure not to rush the process and evaluate your budget and needs thoroughly. If you're a beginner looking to purchase a chainsaw for basic everyday use, then you may want to go for a simpler product and not jump right into the professional aisle. In the end, remember that the one-size-fits-all approach clearly won't work here. The best beginner chainsaw for you may not necessarily be ideal for someone else. This is where a thorough analysis of your project comes in. Based on factors like how the tool is powered, how often the bar needs oiling, what amount of control you have, and the usage of the chain brake, you can make your pick from the choices stated in the list. Last but not least, we strongly recommend using gloves, chaps, goggles, and ear protection to keep yourself protected and out of harm's way at all costs.
IMAGE CREDITS
Image by Marcus Spiske on Unsplash.