DeWalt and Makita are two major power tool brands. Since it will be hard to compare these two brands across all the tool categories, we will be basing our comparison on the most popular types of power tools.
DeWalt vs Makita Power Tools
1) Hammer Drill
Both Makita and DeWalt have impressive drill lineups, featuring excellent options in 12V as well as in 18V/20V Max categories. This is how the flagship hammer drill models for both brands stack up against each other:
| | | |
| --- | --- | --- |
| | Makita (18V LXT XPH14) | DeWalt (20V Max FLEXVOLT ADVANTAGE DCD999) |
| Maximum torque | 1250 in-lbs | 1219 UWO* |
| Maximum speed | 2100 RPM | 2250 RPM |
| Blow-rate | 31,500 BPM | 38,250 BPM |
| Weight (battery included) | 6 lbs | 5.9 lbs |
| Length | 7 inches | 8.4 inches |
*DeWalt measures power using UWO (Unit Watts Out) instead of torque.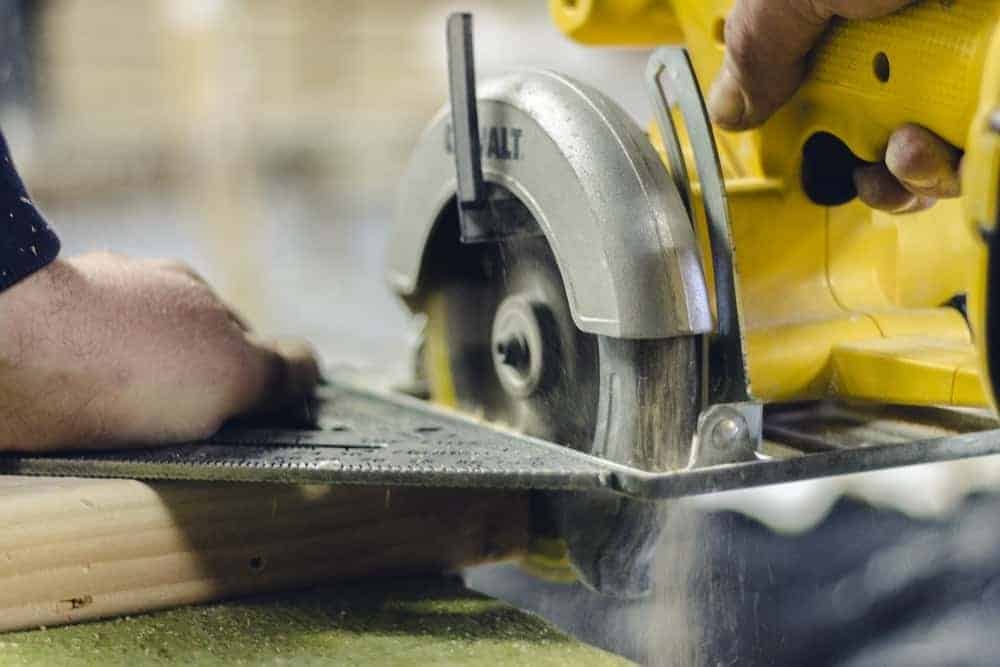 As far as features go, the DCD999 by DeWalt offers Tool Connect capability – if you want to use this feature, you only need to insert the chip. Moreover, it has three different speed options, as opposed to Makita's two.
One thing to note is that the DeWalt drills offer maximum performance only when paired with FlexVolt batteries – and those batteries are fairly bulky. So, if you want to cut down on weight, you will probably also have to compromise in terms of performance.
The XPH14 by Makita offers an improvement in performance while keeping the quality design and feature set pretty much the same as its earlier models. Even if you decide to go for a smaller, 2.0AH battery, the performance is unlikely to drop as drastically as it would with the DeWalt FlexVolt Advantage.
2) Impact Driver
Things change dramatically once we come to impact drivers, and we believe that Makita takes the crown in this category. Makita drivers, in general, perform better, and are lighter and more compact than their DeWalt counterparts.
As far as intelligence goes, it is solely a question of personal preference. DeWalt offers the Tool Connect system, which uses an app to view, track, and control diagnostics. Makita, on the other hand, has a number of assist modes which do not require an app to use.
Anyway, here is what the performance numbers have to say:
| | | |
| --- | --- | --- |
| | Makita (18V LXT XDT16) | DeWalt (20V Max FLEXVOLT TOOL CONNECT DCF888) |
| Maximum torque | 1600 in-lbs | 1825 in-lbs |
| Maximum speed | 3600 RPM | 3250 RPM |
| Rate of impact | 3800 IPM | 3600 IPM |
| Weight | 1.9 lbs | 2.0 lbs |
| Length | 4.6 inches | 5.3 inches |
In terms of features, both impact drivers offer electronic controls and four different speed settings. Through the DeWalt Tool Connect, you can customize these settings, and use the application to track the 'last seen', as well as obtain a wealth of other diagnostic data.
As far as Makita goes, the intelligence is kept on-board with a slow-start assist feature and self-tapping screw options. You also get an auto-stop, reverse rotation mode.
There is a button placed right underneath the LED light which lets you conveniently switch between your two most preferred modes. You can, of course, decide not to program this button, in which case the impact driver will simply move through the standard four modes.
3) Impact Wrench
Although the impact wrench lines for both the brands are pretty similar, we feel that Makita's is slightly more developed than DeWalt's. On the other hand, DeWalt offers a minimal line of pneumatic wrenches, while Makita does not offer any.
Makita's line of cordless wrenches goes from compact, all the way up to 1250 ft-lbs, ¾-inch beasts. Utility workers, meanwhile, can benefit from the 7/16-inch hex.
Even though DeWalt, too, goes from compact to ¾-inch, it does stop a little short at 1200 ft-lbs for its largest model. Just like Makita, DeWalt also has a 7/16-inch hex for utility tasks.
In terms of smart control, DeWalt offers a mid-torque model that has been enabled with Tool Connect. Makita, meanwhile, offers assist mode across a range of options.
Below is a brief numerical comparison of the flagship mid-torque models for each brand:
| | | |
| --- | --- | --- |
| | Makita (18V LXT XWT17) | DeWalt (20V MAX TOOL CONNECT DCF896) |
| Maximum speed | 2200 RPM | 2000 RPM |
| Breakaway torque | 740 ft-lbs | 600 ft-lbs |
| Fastening torque | 520 ft-lbs | 330 ft-lbs |
| Impact rate | 2700 IPM | 3100 IPM |
| Weight | 4.60 lbs | 3.45 lbs |
| Length | 6.70 inches | 6.95 inches |
Just like the impact driver, the DeWalt impact wrench offers multiple customizable settings (3 different settings), along with diagnostics and tracking. Precision Tap and Precision Wrench assist modes aid with cutting and control threads.
Makita, meanwhile, has 4 different speed settings, along with 3 reverse assist modes and 3 forward assist modes.
4) Circular Saw
Both the brands offer plenty of variety in terms of both sidewinder and rear-handle circular saws. In addition, they have some of the most sought-after cordless saw models.
Moreover, both DeWalt and Makita manufacture both cordless and corded track saws. With Makita, though, you can also go for a sidewinder saw that is rail-compatible, in case you do not want a full-fledged track saw.
On the other hand, FlexVolt has allowed DeWalt's cordless circular saws to gain a 'cutting' edge over the Makita 18V X2. Makita, however, makes up for this by offering lower weight and greater portability (the performance, too, is only marginally poorer than DeWalt's).
In addition, Makita's circular saw range has smoother operations, and the Max Efficiency stock blades are also better than DeWalt's. For increased capacity, Makita offers a 10 ¼ inch corded saw, and a 9 ¼ inch cordless model.
This is how the best cordless sidewinder saw models for either brand stack up against each other:
| | | |
| --- | --- | --- |
| | Makita (18V X2 XSH07) | DeWalt (60V Max FLEXVOLT DCS758) |
| Blade speed | 6000 RPM | 5800 RPM |
| Max 90-degree depth | 2 5/8 inches | 2 9 1/6 inches |
| Brake | Yes | Yes |
| Bare weight | 7.7 lbs | 8.2 lbs |
| Dust port | Yes | Yes |
 Our Final Thoughts
As the above DeWalt vs. Makita power tools debate showed, DeWalt and Makita are as competitive as two power tools brands can be, and any differences are only marginal. This means that, at the end of the day, it is your personal preference that will prove to be the deciding factor.
To learn more about the best woodworking tool brands, please feel free to check out some of the other blogs on our website.