You can't get better than a drill press for stability, power, and accuracy, no portable power tool can best the drill press in these categories owing to it's fixed design and winding wheel gives you total control over the drilling process like no cordless or corded drill will.
In a Hurry? Here are the Best Drill Presses
There is a lot of choice for these products and to find the best drill press you have to wade through the finer details, specifications and the verdicts of unbiased drill press users who have used them over long periods of time, to do this we have trawled through thousands of users experiences to help paint a clear picture of the overall performance, the quality of the construction of the tools.
The 10 Best Drill Presses
We have reviewed 10 of the very best looking closely at performance, reliability, features and the quality of the construction, weeding out the poor performers only leaving the better ones that justify their price by providing high performance and durability so you can find the right one for the work you need to carry out with it.
1. WEN 4208T Drill Press – Best Low Priced
We have started this guide with the best value for money product and the WEN, without doubt, wins in this category especially when you consider the price.
The WEN 4208 is a pocket-sized powerhouse of a drill press that will impress you with its phenomenal build quality and great performance.

The compact size and reasonable price tag make this a great choice for home workshops. It isn't a commercial drill press like number 5 on the list but its much cheaper and the Delta drill press would be an overkill for most people.
The 4208 is a sturdy little 8-inch drill press. Bolt it down to a level surface and it doesn't wobble a bit.
There's no play in the handles either. That's a lot to do with the cast-iron construction.
Despite that, it weighs a pleasant 30 lbs. You can easily tuck it away into a corner for storage after use.
The 1/3 HP induction motor that powers the drill press is a beast.
This can easily drill through tough metal, bore through wood and do almost all basic tasks that you'd expect to do in a small workshop.
It has an 8-inch swing and a 2-inch bore. Depth can be preset for repetitive tasks.
It is a five-speed press with a low of 740 RPM and a top speed of 3140 RPM. Adjusting the speed is a little cumbersome due to the pulley system. But that's not a deal-breaker.
Also, this might get bogged down if you look to bore through dense stock. This is not a professional-grade press.
½ inch Chuck with on-board storage
The WEN 4208 comes with a ½" keyed JT33 chuck that accepts a variety of bits with up to a ½ inch shank.
The dedicated on-board chuck storage is a neat addition that ensures that you don't misplace it. And it's easily accessible for on-the-job adjustments.
WEN 2 years manufacturers warranty
Our verdict: The WEN 4208 is a great choice if you are looking for a pocket-friendly drill press for home use. Can it replace a heavy-duty professional best drill press? Probably not. But if you are looking for a reliable and durable unit for hobby tasks or light drilling work, look no further.
2. DEWALT DWE1622K Drill Press – Best Portable Drill Press
Now on to the higher-priced Dewalt for a very impressive drill press.
The Dewalt DWE1622K is a lightweight, portable mag drill press that comes with a dedicated storage case and a bunch of useful features that make life easier in the work-space.
It is aimed at the more selective DIYer looking for more power in a compact package.
Easy Bit Changes
The DWE1622K is designed for easy operation even when you are placed precariously on a high beam.
The 3-point grip handle releases at the press of a button and can be attached on both sides of the tool.
Ditto with the machined steel Weldon chuck. You can release it and change bits in the blink of an eye.
We did find a wee bit of play in the chuck. But that's expected for a budget-priced mag drill. This is not a drill that we'd use for engineered drilling tasks anyway.
The 10-amp motor offers it plenty of juice for routine tasks. On days when you might overexert it, the overload LED light starts to blink. The best part is that the drill won't stop dead on you in the middle of your drilling task. It will continue to run for a few more seconds before it stops automatically. The LED turns red at this point.
Just allow it to cool down for a while before restarting.
Ideal for a variety of cutting tasks.
The Dewalt DWEK1622K can work with an annular cutter for a diameter of 2" and up to ¾ "with a Weldon cutter.
The coolant bottle can be attached to any convenient metallic surface and rigged to the press head through a tube.
Everything can be neatly tucked into the tough, blow-molded case that comes with it.
Our verdict: Top quality mag drill for home and small workshops. It comes with an industry-leading
3-year warranty
as well. I can't ask for more.
3. WEN 4210T Drill Press – Strong Framed 
Another WEN in the top 10 and this one is in a slightly higher price bracket but it does justify that higher price.
The 4210T is a slightly bigger and meatier option than the #1 pick in this list of the best drill press.
It's quintessential Wen. Built like a rock, as stable as they come and lots of power for the size.
Despite all this, it comes at a very affordable price.
A brute of a press
We love the cast iron construction of the WEN drill presses. It gives it so much more stability than flimsy, cheap ones.
It almost eliminates the wobble completely even when you are working at the top speed on tough material.
The 4210T comes with pre-drilled holes to mount on a workstation or bench.
It is powered by a 3.2 amp 1/3 HP induction motor that packs a punch with its performance. It doesn't bog down even when working on denser stock and rarely overheats.
As an added bonus, it is quieter than some of the other presses on this list.
This is a five-speed press by the way and it has a low speed of 600 RPM and a top speed of 3100 RPM.
Rack & Pinion Height adjustment system
Just like the 4208, the 4210T also features the 1/2-inch chuck with JT33 taper. It's compatible with a wide range of bits. And there's on-board key storage.
The 2-1/2" depth stop with an easy-to-read measurement bar gives you the accuracy you seek during repetitive tasks.
The table has a rack and pinion height adjustment system that allows you to move it up and down with ease. This has a little play towards the side. But it's not so severe that we'd call it a deal-breaker.
We found the X-pattern laser a little difficult to adjust. Almost gimmicky to be honest. But that's just an optional feature. The drill works just as fine without it.
Our verdict: The WEN4210T is a 'lot of power' for the price. It's fairly accurate, drills through most types of materials with ease and comes at a very attractive price tag. Perfect for the hobbyist or home user.
4. Skil 3320 – Best Bench Top Drill Press
At first glance, the Skil 3320 looks like a mirror replica of the Wen4210T.
There's very little difference in the design apart from the different color schemes on the casing.
But, when you actually start to work on it, you'll notice that there are tiny variations in the way the Skil 3320 works with different materials.
2-Stroke Tabletop drill press
The Skil 3320 is a 2-stroke tabletop machine that's ideal for DIY woodworkers or hobbyists alike.
As we mentioned, it is very similar to the WEN4210RT in terms of specifications.
It comes with a 1/2" keyed chuck that works with a wide range of bits that are up to ½ inches.
It is a five-speed press. You can go from 570 to 3050 RPM by adjusting the belt and pulley system.
The worksurface tilts or bevels by up to 45 degrees to the left or right. And it comes with the X2 laser beam.
Hmm…wondering aren't you?
Compact and higher drilling capacity.
Skil has also stood behind this product with a 3 year limited warranty.
The 3320 weighs a pleasant 52.2 pounds and stands just 21 inches tall. That's smaller and lighter than the WEN.
Also, it has a 2 1/8" drilling capacity which is slightly more than the WEN.
It almost makes you feel that this might be the better choice. But when it comes to power, the WEN4210T is the better option.
Now, this does not mean that the Skil 3320 is under-powered. The difference is only minute and for all you know, you might not even notice it.   Our verdict: To be fair, there's very little to choose between the two. You can pick either one of the two and you won't be disappointed one bit. For users seeking more portability, the Skil 3320 might be a better choice.
5. Delta 18-900l – Commercial Drill Press
The Delta 18-900L is the first industrial-grade drill press on this list. And it is a monster. This Can be considered a commercial drill press.
It features a beefy cast iron body with a capacious work table and a laundry list of best-in-class features, that make it one of the top contenders for the best drill press.
Designed for the serious woodworker
The Delta 18-900L features a rugged design that screams 'industrial'. There are very few shiny parts.
Instead, you are greeted by the matte finish of heavy-duty cast iron and steel.
The table is 20" x 14" inches and you can adjust it in various angles depending on the job.
This is a 16-speed drill press that uses two belts and three pulleys to adjust the speeds. It has a low speed of 170 RPM which is ideal for metals and a top speed of 3000 RPM.
There's a speed adjustment chart on the underside of the cover that shows you the right speed for the right material. All that you need to do is flip open the top, move the lever to release the tensioning, adjust the speed and press the lever again. The tension adjusts automatically.
6-Inch Quill Feed Travel
The Delta 18-900L features a 6-inch quill feed travel system with large, powerful handles that give you great control over the quill feed.
One complete turn of the handles feeds the entire 6-inch distance.
One thing that is truly impressive is the warranty Delta gives with there power tools… 5 years warranty which is a sign of the confidence they have in the quality of their tools construction.
Micro depth adjustments are made easy, courtesy the large, responsive, adjustable scale on the feed.
Just set zero to the exact depth to where you wish to drill and reset it after you are done.
It also features a split-nut, quill stop system that lets you stop the quill feed easily by pressing and engaging two split nuts.
Other than this, the 18-900L also features a large, adjustable LED work light and a twin X cross-hair laser that's incredibly accurate.
Our verdict: The Delta 18-900L is hands down, one of the best drill presses that we've ever seen and used so far. It's a tad pricey. But the serious woodworker or professional won't mind the extra cost because a commercial drill press is always going to cost more due to the precision that it brings to the table and its ability to deal with a heavy workload.
6. WEN 4214 – Best Mid Priced Drill Press
The 4214 is the mid-range offering from Wen's impressive bench-top drill press lineup.
It is a 12-inch, variable speed drill press that's perfect for both hobbyists as well as professional machinists and metal workers.
Belt-Adjustments be gone
The WEN 4214 towers over the other budget-priced bench-top models in this list with its beefy cast iron construction.
As you assemble the parts, you will notice that the build quality is top-notch.
One of the standout features is the large 9½" by 9½" work table with a roller extension for larger workpieces.
Further, it bevels 45-degrees to the left and right when needed.
Speed adjustment is as easy as turning a lever and a bright LED screen displays the current speed setting.
You can choose from a low of 580 RPM to a high of 3200 RPM which makes this well suited for a variety of materials.
Work with a variety of drills and materials
The 4214 features a 5/8-inch chuck with the MT2 spindle taper, that allows you to work with a wider range of drill bits.
The spindle travels a whopping 3-1/8-inches and you can make accurate depth adjustments without breaking a sweat.
2 years manufacturers warranty as standard with all WEN power tolls.
The 5-amp induction motor delivers about 2/3 HP and more than suffices for household as well as professional tasks.
Last but not least, the WEN 4214 also features an on-board work light and an X-cross-hair laser system that eliminates any room for error.
Our verdict: Despite being professional-grade, the WEN4214 is priced just a tad above the budget-priced models in this list. If you are in woodworking for the long run, we recommend that you up your budget and little and get your hands on this beauty. It should last for years without the slightest of problems.
7. Gino Development True power – Good Low Budget Drill Press
This one stands out in the lower price bracket although it can't match the WEN4208 it is still a capable little machine.
The Gino Development, also called the 'TruePower Mini' is a precision drill, commonly used for drilling precise, tiny holes in a variety of metals.
It is occasionally used with wooden & plastic stock too.
This is a very good drill for the price. It is well made, remains wobble-free and comes with a range of speed settings that make it well suited for a wide range of applications.
Portable, pocket-sized unit
This is a compact, lightweight unit that you can easily move around in your workshop or even carry with you. It weighs just 11.8 pounds and stands 13.5" tall. Tucks away into any storage cabinet after use.
It is made mostly of lightweight aluminum but comes with a stable cast iron base that prevents wobble.
The work area is a very useful 6.750″ x 6.750″ and the 1" quill stroke is just about perfect for the applications that it's primarily used for.
It features a maximum chuck capacity of 6mm and can accommodate bits that are 0.79mm to 6mm in diameter.
Variable speed adjustments
You can choose from three-speed settings on the TruePower Mini.
There's 0-5000 RPM, 0-6500 RPM, and 0-8500 RPM, as well as the option to select any speed within that range. So, you can select the first setting and set your speed to 4000 RPM for instance.
The TruePower comes with only 1 years warranty.
While the machine works flawlessly on the upper-speed settings, it does tend to lose some torque at the lower end.
That's but a small niggle for us.
Our verdict: The TruePower Mini is a wonderful little machine at a throwaway price. If your workshop tasks involve precision drilling work, then there's no better choice than this. P.S. Throw the manual away and check YouTube to save yourself a lot of frustration.
8. Ainfox 10-Inch Bench Top Drill Press
The Ainfox 10-Inch Pillar Drill is sort of like the middle ground between a professional-grade press and a home use one.
The 10-inch capacity is more than what you'd normally expect at this price point. To top it off, it comes with 12-speed settings for working with different materials.
This, at just a wee bit more than what you'd normally pay for an entry-level machine.
Truly Heavy duty
Most manufacturers loosely throw around the term 'heavy-duty' while describing any machine or appliance made of metal.
But the Ainfox 10-inch drill press is truly heavy-duty. It is made of tough cast iron and weighs a whopping 66 lbs. when fully assembled.
The extra weight translates into added stability. This one doesn't even move a whisker when operational.
The cast iron table is a reasonable 7 7/8" x 7 7/8" and you should have ample room to work with your stock. It bevels from 0-45 degrees making it easier to make angular cuts.
It features a 1/8 -1/2″ keyed chuck and has a quill feed distance of 5" with a maximum cutting depth of 2 3/8".
Adjustable depth stops.
The 3.5 AMP motor brings in some serious power to the press. Wood, metal, this cuts through the toughest of materials without getting overheated.
Repetitive, precision-demanding tasks are simplified with the depth stop setting that allows you to preset the cutting depth.
Having said that, it's not the best of choices for cutting tasks that demand engineering-level precision.
Our Verdict: The Ainstop 10-inch pillar drill is a fine machine for the price. It is reliable, stable and has lots of power under the hood. At this price point, the only better pick that we can recommend is the WEN 4210T.
9. ShopSeries RK7033 – Great Hobby Drill Press
A lot of the beginner tabletop drill presses lack the power needed to drill through denser materials.
Like thick oak for example. Or carbon steel.
The ShopSeries RK7033 is powered by a 6.2-amp engine and it has a lot of juice for a machine this size.
In fact, it is closer to a professional-grade unit than some of the other models in this list of the best table drill press. It stands 28" tall and is built like a tank.
Stable and powerful
The RK7033 weighs around 48 lbs. and stays as steady as a rock during operation.
The 2/3 HP induction motor provides 200 in-lbs. of consistent torque to power the drill bit through the workpieces.
Works with 2" thick stock
The ShopSeries RK7033 features a ½ "keyed chuck that allows you to work with bits that are up to ½" shank.
The cutting depth is 2" and you can further adjust the table height if you wish to cut deeper.
There are five preset spindle speeds and the best part is that you just need to raise the top and adjust the pulley to set the speed. No need to move the belt and readjust the tension.
ShopSeries is made by Rockwell and you can read about the warranty here.
One thing that must be mentioned is that the ShopSeries range of products is manufactured by Rockwell. However, this lineup of products seems to be discontinued and you cannot find any information about it on their official website.
Thankfully, most of the replacement parts are easily available online.
Our verdict: Need the best drill press with more power than an entry-level tabletop model? Here you go. There are a few trade-offs for sure. But none of them would make us reconsider our decision to include the ShopSeries RK7033 in this list.
10. Genesis GDP805P – Another Good Budget Drill Press
Last but not least, we have the Genesis GDP805P. Like most of the drills in this list, this one too is a budget-priced model with specs that rival much higher priced brands.
We believe that while industrial-grade drills have their place in the market, their usage is limited to the professionals.
Instead, it is the DIYer and the hobbyist who are exploring these machines more passionately. Home workshops buzzing with activity on weekends.
And the lower and mid-range of the price bracket appeals more to them than the higher end. So here goes.
Top-heavy model
The Genesis GDP805P is a tabletop unit with a very small footprint.
It's perfect for small workshops and garages where work-space is a premium.
It features a cast iron base that can be bolted to the surface. In fact, we highly recommend that you bolt this down. It is a little top-heavy and does tend to move if it's unsecured.
It is powered by a 2.6amp motor which is powerful enough to cut through metal and thick wood. Also, it doesn't create a din even at top speed.
Genesis gives a 2 years manufacturers warranty on this machine.
The GDP805P has 5-speed settings to choose from. You just need to lift the cover on the top of the unit to access the pulley housing and adjust the belt to change the speed.
Like most budget-priced units, the lower speed performance isn't stellar. But it works phenomenally well at higher speeds.
It features a 1/2″chuck, which is pretty standard at this price point and has a 2" cutting depth.
A beveling base allows you to make angular cuts as well.
Our verdict: The Genesis GDP805P is one of the best drill presses at this price point. It has all the features that one expects from a medium-range drill press. And the performance is on par with units that cost 2x as much. A well-deserved place in the Best drill press for Genesis!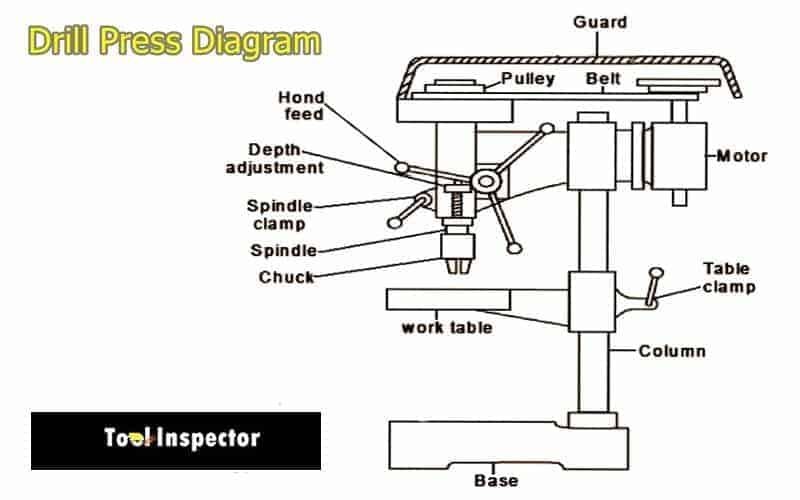 The Best Drill Press Features to Consider
Drill press also known as pillar drills are a highly accurate way of drilling various materials.
Normally constructed of cast iron they come in a range of shapes and sizes some are workbench based and some are floor-standing models.
The floor-standing models come with a higher price tag but are fitted with higher-powered motors. It's not out of the normal for these models to priced in-between $500 – $1500 and is normally purchased by semi-professional to professional users. This is not to say that the lower-priced workbench models are not capable of producing high-quality results and reliability because there are many drill presses under $100 that will produce impressive results.
They all have one thing in common though and that's power and stability that handheld power tools can't compete with.
Another big plus is the number of speed settings that are offered with drill presses as this really helps achieve the best quality results especially when you work with a large selection of materials.
The basic design of a pillar drill is a simple concept and very similar to any drill, it comprises of an electric motor connected to the gearbox via pulleys and the number of step-downs is the number of speeds available.
This is connected to the quill via the winding wheel giving the capability to move the drill up and down.
They are a very solid and durable unit and in most cases are built to stand up to a professional environment of heavy and constant use. You will find the drill press in every engineering workshop and in 90% of joiners workshops too.
With many different sizes of these units comes different chuck sizes with the majority coming with chuck maximums of 1/2″ or 5/8″.
The RPM of these pillar drills is normally between 500rpm and 3000rpm many come with the ability to select both of these speeds and anything in-between through the variable speed settings.
The electric motors are very capable to the point many manufacturers don't even consider it worth detailing the horsepower of the drill because it goes without saying that the motor is highly capable and there is no advantage to advertising it when they are all far more than capable. It goes without saying though that a $50 drill press will not have the power of a $500 drill press but for around $75 – $100 you can get a very capable one that will work hard for years.
An important consideration is the available movement that the drill offers through the spindle handle because this controls the depth of the material you will be capable of drilling through so look out for that especially if you plan on working with thick materials.
You can find these machines for under $50 but don't in our experience it's best not to be tempted by those as they are inferior in the quality of the construction and castings and often offer poor design for mounting of the unit. These often end up as a false economy purchase because they don't last very long before it breaks down leaving you in the lurch and needing to purchase another one.
Safety
Always wear safety goggles when using a drill press because it only takes a millisecond for a metal or wood particle to shoot into your eye and cause permanent damage.
Always keep the safety guard in place whenever it's available.
Never touch the drill whilst in motion as these are very powerful and it can cause serious damage in the blink of an eye.
Always unplug or switch it off at the plug whilst changing the drill bit otherwise one mistake can result in much pain.
Recent product reviews
The Best Reciprocating Saw Buyers Guide Reviews
Best Belt Sander Buyers Guide and Reviews
Best Router Table Buying Guide and Reviews
Best Electric Chainsaw Reviews and Buyers Guide
Best Jigsaw Product Reviews and Buyers Guide
Best Angle Grinder Reviews and Buyers Guide
ABOUT JOHN LEWSAM I am a 40-year-old qualified electrician with many years experience in the trade and many more years in trades that have required me to use a massive variety of power tools. I have over 20 years of power tools experience. Read more about me