As any woodworker will tell you, an apron is a crucial PPE (Personal Protective Equipment) component. Without the best woodworking apron, you are bound to get your clothes dirty during your tasks, and eliminating those stains and marks is often tough.
Now, one might wonder if a normal piece of clothing might be good enough to shield your actual clothes from dirt and stains. Well, that is not the case, since there are quite a few differences between regular clothes and aprons – one of the most prominent of which is the material.
To help you choose the best woodworking apron, we have come up with a list of suitable aprons that are currently available on the market.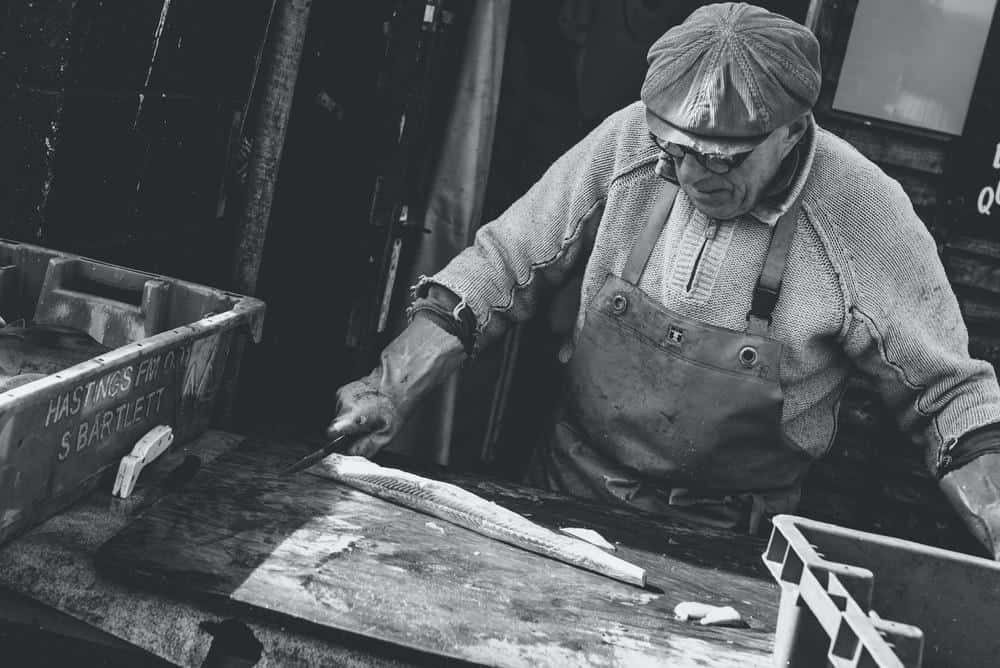 4 Best Woodworking Aprons:
When it comes to aprons, leather is one of the most desirable materials around. This is because leather offers the best of both worlds –the exterior is tough, but the material still feels comfortable and malleable when you wear it.
Along with multiple pockets, this leather apron comes with adjustable straps, as well as a ring that you can use to clip tools. The water-resistant coating adds to the durability and useful life of the apron. It is made using pure, genuine leather, and has a well-made, sturdy construction. You will also find the apron easily cleanable, and it will not feel overly burdensome or heavy.
If you are looking for an apron that contains all the fundamental features of a woodworking apron, while offering a sleek and stylish look, the Bucket Boss 80200 is certainly worth considering. This apron is made using wax, and gives off a 'uniform' appearance, which makes it ideal for workspace environments.
However, it will be wrong to think that the apron is not adequately protective just because it is not bulky or awkward. For one, the apron has a water-resistance limit of 16 ounces, and the apron hems have been stitched twice to provide extra durability. The top of the apron pocket contains a dust flap, which makes sure that any tools that you hold in the pocket will not come into contact with any dirty components.
Also, since the apron has a cross-back design, you will not have to strain your neck a lot. On the whole, the apron design is quite similar to that of a bib, thereby delivering greater protection. The apron also contains gun-metal grommets, which make sure that it will not tear or wear out.
This unisex woodworking apron contains a number of pockets, which can be used to store both small and larger woodworking tools. You can use these pockets to store the tools that you will be using frequently during your current woodworking process – this will minimize the risk of losing one or more of those tools, and the hassle and time-wastage of trying to find them.
The apron comes with adjustable and flexible buckle straps, thus ensuring breathability and allowing maximum comfort and ease. In addition, the apron has been stitched twice, which makes it extremely durable and resistant.
The product is extremely versatile – alongside woodworking, this apron can be used during carpentry, plumbing, and gardening tasks.
Made using 20 ounces of heavy duty wax, this woodworking apron is durable and sturdy, while also being convenient and comfortable. Moreover, the durability is further helped by the fact that the apron has been double-stitched.
You will find nine different-sized pockets on this apron. The chest pocket, for instance, can be used to store your phone or pens, while the hanging loop can be used for hammers.
The apron also contains a magnetic patch that can be used to hold nails, screws, or pins. The tool pockets have flaps over them, designed to keep the sawdust at bay. The padded, removable shoulder straps evenly distribute the weight and help minimize the risk of neck strain.
The snap-fit design waistband makes the apron easy and quick to wear. Thanks to the adjustable cross-back, the product also has a comfortable fit. The product is accompanied by a gift box and an instruction manual, and can also make an excellent gift for anyone who loves woodworking, gardening, or carpentry.
Finally, to provide the ultimate peace of mind to its customers, Briteree offers a two-year money-back guarantee on this product.
Factors to Consider When Choosing a Woodworking Apron:
Essentially, a woodworking apron is a protective gear, and – even though some people might disagree –is as important as a respiratory mask or protective goggles. Your apron will be your shield against wood chips and other particles, and should therefore not be made using any makeshift old fabric. Ideally, an apron should be made using canvas or leather – two extremely durable materials. Occasionally, though, you might come across denim or cotton aprons capable of doing a decent job as well. The best woodworking apron will, in most cases, have a waxed finish, which not only reduces the likelihood of tears and rips, but also makes it more resistant to water. In addition, waxed aprons are a lot more effective at keeping out grimes like glue, dust, and wood.
The second thing to consider when choosing a woodworking apron is the features and capabilities that it offers. There is not much to explore with respect to technology, but you should look out for added conveniences like adjustability, additional straps, and multiple pockets.
Lastly, you must also pay close attention to the weight. Being a woodworker means exerting a lot of effort and energy, which means that you can do without the burden of an excessively heavy apron. For this reason, lighter aprons are always preferred over their bulkier or heavier counterparts. Find an apron that feels like a second skin, and allows you to move freely about.
Our Final Thoughts:
To sum up, an apron is an immensely important but often underrated piece of protective woodworking equipment. The best woodworking apron – like the ones discussed in this guide, will provide the right combination of durability, sturdiness, weight, and comfort.