Woodturning is an excellent skill to hone, especially for aspiring woodworkers. However, it is not the easiest thing to accomplish and often takes hundreds of hours of practice to get the basics right. One of these basics includes sharpening your wood lathe tools, which is crucial and can be very tricky to get right.
Let's discuss how to sharpen wood lathe tools to help you better understand exactly how to go about.
How to Sharpen Wood Lathe Tools
The importance of sharp tools cannot be overstated, especially when it comes to woodturning and woodworking. When you properly sharpen your wood lathe tools, you get fewer cracks, broken pens, and a higher grade of perfection in your work.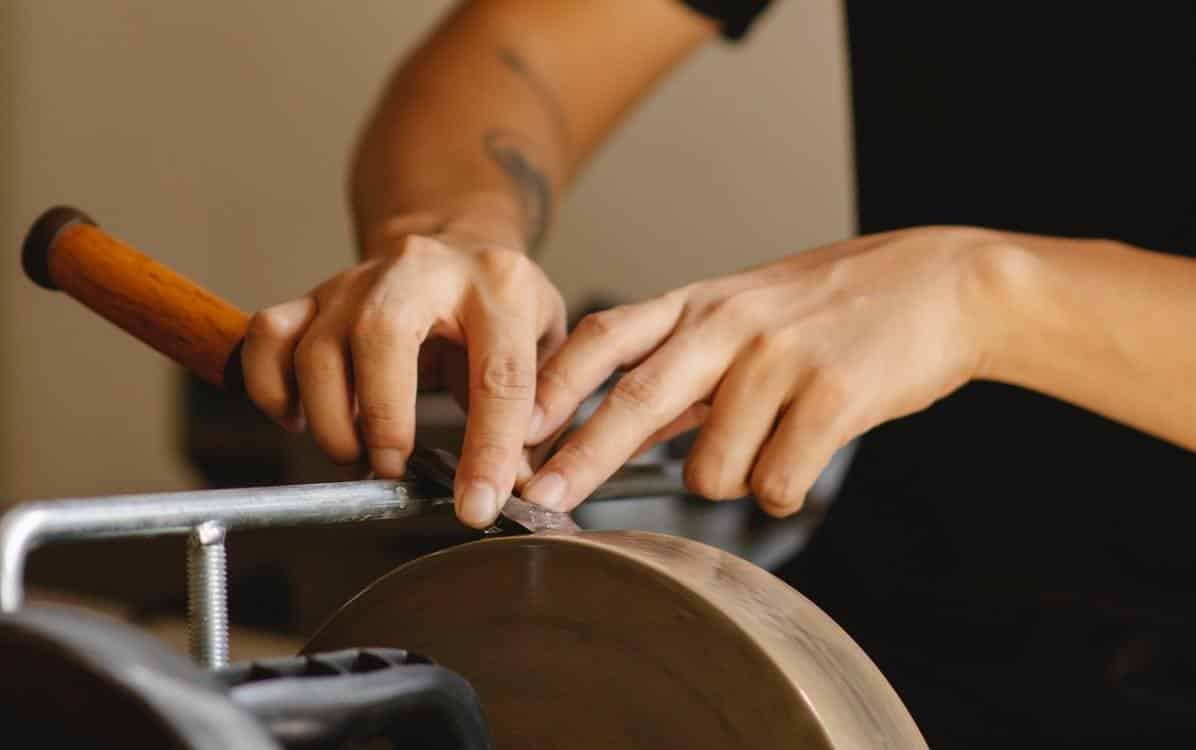 Ultimately, it provides better woodturning results and saves you time and money on various fronts.
What You'll Need
Before you start sharpening your wood lathe tools, you'll need a few things.
● Bench Grinder
Naturally, you'll need a grinder to grind your wood lathe tools on so you can sharpen them. Typically, an 8-inch grinder is best for sharpening and reshaping your tools. However, you can also use a 6-inch variant for similar results, speed, and efficiency.
Here are some of the best, most highly-rated, and value-for-money bench grinders available in the market
DEWALT Bench Grinder, 8-Inch (DW758)

WEN BG4260 2.1-Amp 6-Inch Single Speed Bench Grinder

JET JBG-8B, 8-Inch Bench Grinder, 1HP, 115V 1PH (577102)

You can easily mount these bench grinders on your workbench, a board, or any worktop you like. They have ample power, safety features, and grinding performance to sharpen your wood lathe tools.
● Grinding Wheel Dresser
The grinding wheel of your grinder may occasionally need a dressing to clear the debris from the wheel and reveal sharp new surfaces. You can use a simple, inexpensive diamond T-bar like the POWERTEC 71003 Diamond Grinding Wheel Dresser, Silver Edition.
● Protective Eyewear
Plenty of metal fillings fly off when you sharpen your tools, which means using protective eyewear is a necessary safety precaution. We recommend the DEWALT DPG82-11C Concealer Clear Anti-Fog Dual Mold Safety Goggle, as they are high-quality safety goggles that come highly rated and won't break the bank.
● Protective Gloves
You can use any thick rubber gloves, as they help protect you from grazes and also provide a nice cushion against the constant vibrations while sharpening wood lathe tools.
● Protective Mask
You do not want to breathe in any metal filings or other particles that may be present while sharpening your tools. So make sure you wear a protective mask for breathing. You can wear any regular mask or simply use a soft cotton cloth to wrap around your mouth and nose.
Know Your Grinding Angles
It should come as no surprise that different wood lathe tools have different cutting angles, which means they also have different sharpening/ grinding angles. For a perfectly sharpened wood lathe tool, you need to know these angles before you can start sharpening.
Keep in mind that the lower the angle, the more difficult it is to control and sharpen the tool against the grinder accurately. Hence, you should start learning with higher angle tools like a 60-degree bowl gouge before you move to sharpen lower angle tools like a 35-degree spindle gouge.
Here are the correct grinding angles for various wood lathe tools.
Diamond Parting Tool: a 45-degree grinding angle is ideal.
Flat Parting Tool: typically,a 45-degree grinding angle is ideal; however, the edges should be at 90-degrees, which means grinding them perpendicular to the wheel.
Spindle Gouge: A 45-35-degree grinding angle is fine, depending on your control and skill level(higher angle for beginner, lower angle for veteran).
Bowl Gouge: there are variousgrinding angle variations from 60-degrees to 40-degrees. Start with higher angles and move to lower ones as you gain experience and control.
Roughing Gouge: A 45-35-degree grinding angle is ideal for using this gouge on soft woods.
Once you understand these angles and have the required things ready, you can prep yourself and start sharpening your wood lathe tools against your bench grinder.
Here's how.
1. Prep the Wheel
Unless you use a brand new bench grinder, you will need to prep the grinding wheel by cleaning it with your dresser. This will clear up any build-up on the wheel from previous operations and give you a sharp wheel to sharpen our wood lathe tools.
2. Grinding Phase One
Gently push the tool against the grinding wheel at the correct grinding angle, but make sure not to push too hard. A gentle push is enough, and if you push harder, the tool may start to vibrate heavily, causing you to lose control.
Grind in intervals and limit your contact against the wheel to 10-seconds per interval. If done correctly, you will see sparks fly as you grind your wood lathe tool. You need gently move your tool from side to side as you sharpen it to get an even grinding angle across the sharp surface.
If the sparks are visibly bursting along the edge as you move your wood lathe tool, you are doing it right. If not, you should end contact, reassess, and try again.
3. Grinding Phase Two
Once you have repeated the grinding intervals around 4-6 times for 10-seconds each, your wood lathe tool should start to look sharper. At this point, it is also likely heated from the grinding, which means you should dip it in water to cool it down.
You need to dry it completely before you can start sharpening the opposite side in the same manner. Just make sure you aren't overly sharpening any one side, as this can make your wood lathe tool weaker.
Our Final Thoughts
Following the mentioned instructions, you will learn exactly how to sharpen wood lathe tools correctly. Take all the necessary safety precautions, practice higher grinding angles at smaller intervals, understand control, and be sure not to over-sharpen the sides.
Once you get the hang of things, sharpening your wood lathe tools will become very beneficial to your woodturning and woodworking efforts. It may also become somewhat therapeutic and satisfying.
If you want to learn more about how to sharpen wood lathe tools, the best bench grinders, and power tools, or our expert reviews and comparisons of various power tools and power tool brands, please check out the rest of our website today.