Your home's kitchen and bathrooms are the focal points of the property. You need to make sure they are functional, durable, and constructed from high-quality raw materials. This will also increase the overall value of your property. In this blog, let's consider some options for the best wood for cabinets. The wood your kitchen cabinetry is made of will determine your kitchen's look and ability to withstand daily use. Both style and structural support are important requirements of kitchen cabinetry. There are plenty of options to choose from when it comes to wood cabinets. Based on these options, you can base the color and style of your cabinetry. Common options for wood cabinets include Oak, Birch, Cherry, and Birchwood. Let's look at these in detail below.
Wood Cabinetry Options
1. Oak
Oak is divided into white oak and red oak. White oak is hard, sturdy, and durable. It's a stronger version of red oak with slightly golden tones. This is a great option if you want a period or vintage look for the kitchen. It also has a medium to coarse texture and subtle grain. Red Oak has a reddish-brown to a whitish color. It is also hard and strong with easy finishing and sanding. Red oak is the more preferred option for kitchen cabinetry between white oak and red oak. It is relatively inexpensive to obtain and is available in various styles and finishes. If you want to go for a more traditional themed kitchen, this is a great option. Oak is also easy to clean and robust enough for daily wear and tear. It is one of the best hardwood choices.
2. Cherry
Even though Cherry wood falls within the hardwood category, it is one of the softer versions. It is richly grained and is often identified through its pitch marks and small pin knots. Cherry wood is often used for high-end woodworking projects. It has a rich dark look with a reddish-brown stain. It is also readily available in the market. Cherry wood sands smoothly and is known to be a hard and strong wood option.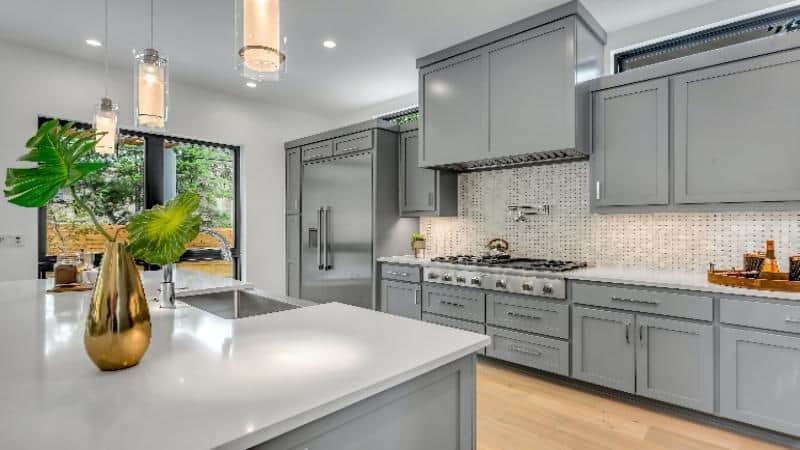 3. Maple Wood
Maple wood is also a great option for kitchen cabinetry. Maple wood is known for its fine texture, durability, and uniform grain. Naturally, Maple wood is pale in color, almost creamy white, but it also includes individual reddish streaks that are often enhanced with staining. Maple wood is strong enough for the frequent usage of modern kitchens. Maple wood is to have a fine texture and a close grain. It is a light and dense wood. Maple wood is also on the pricier side than oak and is often used for custom-made cabinetry.
4. Birchwood
Birchwood is darker in color than Maple and is quite sturdy and durable. It is a fine-grained wood that has a great finish. It is often posed as a more expensive wood variety as it finishes well. With the right staining, it can also achieve a Maple wood look. However, Birchwood is also prone to irregular coloring once in a while. This variety of wood is rather inexpensive and is a popular choice for both customized and in-stock options.
The 3 Best Wood for Cabinets
1. Combo of Walnut Cherry and Hard Maple
ASIN: B0865V4RMD
This combo contains 15 boards of three different kinds of wood. It contains 5 Walnut boards, 5 Cherry boards, and 5 Hard Maple boards. Each board is ¾ inch thick, 2-inch-wide, and 24 inches long. All fifteen boards are sanded with clean edges and are kiln-dried. They are devoid of cracks, knots, and chip-outs.
2. Maple Lumber Boards
ASIN: B07QR1K1N9
These Maple Lumber Boards by Barrington Hardwoods consist of a two-piece pack. These boards measure ¾ x4x12 inches. The total item weighs 2.14 pounds. These boards come with an offer of free prime shipping to your doorstep. There is also a return policy assuring replacement of the product or a refund if unsatisfied.
3. Cherry Lumber Square Turning Blanks
ASIN: B07QNYYZS7
These Cherry Lumber Square turning blanks are sold by Barrington Hardwoods and are a pack of 4 pieces. The pieces measure 2x2x8 and can be delivered to your doorstep through free prime shipping. The Cherry Lumber Squares boast a beautiful grain and are thoroughly kiln-dried. The package dimension is 8.4×4.7×4.4 inches, and the package weighs 2.85 pounds.
4. Red Oak Lumber Square
ASIN: B08LNVPXW9
This red oak lumber square measures 12×1.25x 1.25 inches and are solid hardwood. This section of red oak wood is finished from all sides and can be used for various purposes. These include cabinet construction, home improvement projects, crafting activities, and flooring. This block is a hue of light to medium brown with a reddish accent. It has a strain grain and uneven texture. It responds well to both hand and machine tools.
Our Final Thoughts
When deciding the best wood for cabinets, take several factors into account. This includes the grain. Color and construction. Remember that veneered cabinets tend to have better matching grains than solid wood cabinetry. When it comes to color, it is possible to replicate different colors on a solid wood base. For example, you can replicate the hue of Maple wood on a Birchwood base. Painting your wooden cabinetry is also doable. The construction of wooden cabinets is also rather expensive. This is because Drawers usually require dovetails which consume more wood quantity. The right finishing can also enhance the wood's original beauty and highlight its qualities. This, in turn, makes the wood more functional. Lastly, remember that each wood variety has its unique characteristics that can suit certain styles and themes well.