Both Ryobi and Ridgid are quite popular brands of power tools, although the former is more of a household name than the latter. Regardless, both brands offer impressive, durable, and lasting tools designed for modern-day use. For this reason, it might be hard to distinguish between the power tools offered by the two brands, and determine which one is the better fit for you.
Therefore, in this article, we will compare the most common power tools offered by Ryobi and Ridgid.
Ryobi vs Ridgid Power Tools
1) Compact Cordless Drill Drivers
One of the most widely used power tools is the drill driver, and both Ryobi and Ridgid offer an impressive drill driver set.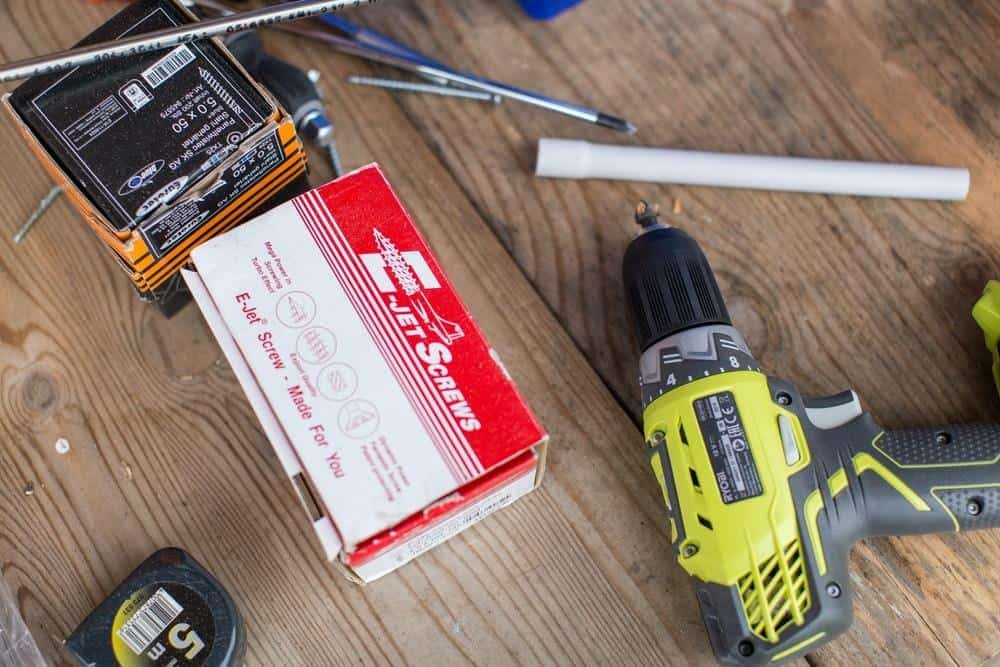 Ryobi's P271 18V is compact and light, and is easy to use for just about anyone. In addition, the drill driver has a transmission, 2-speed gearbox which allows for accurate driving, regardless of screw.
Ridgid's R860052 18V, on the other hand, has a body made completely of metal – this does make the drill driver slightly heavier, but also contributes to its durability. Moreover, this drill driver offers 24 different clutch positions, and comes with a lifetime warranty.
All in all, both cordless drills are fairly impressive. The Ridgid drill might just have the edge over its Ryobi counterpart, owing to the former's extra features and greater durability. However, Ryobi is not a bad option by any means, especially if you are a beginner or DIY hobbyist looking for something lighter and with a lower price tag.
2) Impact Wrenches
Another important power tool is the impact wrench. Ryobi's 18V ONE+ wrench is quite inexpensive. In spite of that, it offers a maximum torque of 150 lbs, which makes it a great choice if you want a wrench for house use or even for camping expeditions. It is also wonderfully lightweight, and can easily be lugged around and stored.
Ridgid's Octane Brushless Impact Wrench, meanwhile, offers a maximum fasting torque of 485 lbs, making it an excellent choice for vehicles. In addition, the wrench also has an automated driver shut feature, which keeps it from tightening excessively. The product is also lasting and durable.
On the whole, the Ridgid flagship impact wrench is an objectively better choice compared to the Ryobi wrench. The former is considerably more durable and powerful, which makes it useful for a wide range of professional or more complex jobs.
Having said that, the Ridgid wrench might just be a tad bit too strong for the typical homeowner –this makes Ryobi the better choice for amateurs and DIY enthusiasts.
3) Miter Saw
Miter saws are usually subjected to a great deal of wear-and-tear, which means that you need to get one which is durable and also offers effortless and precise cutting. Ryobi's miter saw ticks both these products and, not to mention, like most Ryobi products, is inexpensive and cost-effective.
On the other hand, Ridgid's R4123 miter saw provides a corded dual bevel along with an impressively compact design. In addition, the saw comes with an LED light that will help you make accurate cuts regardless of the extent of external lighting available. Indeed, the Ridgid miter saw is also considerably more expensive than its Ryobi counterpart.
Once again, from an objective point-of-view, the miter saw comparison also belongs to Ridgid, owing to its tremendous durability, more extensive features, and compact design. Of course, it also comes with a much higher price tag, which might prompt people to still go for the Ryobi saw.
Alongside being less expensive, the Ryobi miter saw is still pretty impressive, and might be more appealing to the typical homeowner, DIY enthusiast, or amateur woodworker.
Overall Brand Comparison
1) Performance
As you must have realized by now, Ridgid has a strong edge over Ryobi in terms of tool performance. In addition, Ridgid is more robust and durable, which makes it a perfect choice for full-fledged professionals. Ryobi's performance is also quite decent, but does not match up to Ridgid's.
2) Price
Price is one area where Ryobi is the undisputed winner and then some. Ryobi is significantly more affordable than Ridgid, which makes it very desirable for the average DIY-er, homeowner, or anyone on a tight budget. That said, Ridgid's warranty is more impressive, but that is far from enough to snatch the prize away from Ryobi.
3) Durability
As already discussed and implied a few times, one of the main reasons that Ridgid is so appealing to professionals, is the brand's durability. Ridgid's primary target market is professionals and contractors, which means that the brand takes the time to develop tools that will meet the requirements of this segment.
Ryobi is adequately durable for DIY-ers, homeowners, amateurs, and those who do not use power tools frequently or regularly. However, when it comes to professional use and durability, Ryobi certainly falls short – of both Rigid and in general.
4) Design
Design is one area where it is hard to declare a clear winner. Both brands offer tools that are impressively ergonomic and light, and come in both cordless and corded varieties. Hence, it is safe to say that both brands are equally good in terms of design.
5) Product Line:
Ryobi probably has a better product line than Ridgid. The former offers considerably more variety, which means that you are likely to find a tool that better caters to your unique needs. Ridgid's product line, in contrast, is quite focused and narrow, consisting of fewer but more durable and high-performing products.
Our Final Thoughts:
This brings us to the end of the Ryobi vs. Ridgid power tools debate. Objectively, Ridgid's power tools are better –both in terms of functionality and durability.
However, that does not necessarily spell defeat for Ryobi, since the two brands produce power tools for almost entirely different markets. Ryobi, owing to its decent durability and competitive price tags, is still the preferred power tool brand for homeowners and semi-professionals.
All in all, we can say that both brands serve their target markets quite well.