What is a drill press? Many people are unaware of this essential tool and what it can do. A drill press is a machine that allows you to drill holes in various materials. It can be used for woodworking, metalworking, and other tasks.
There are many different types of drill presses on the market, so it can be difficult to know which one is right for you. In this blog post, we will discuss all there is to know about drill presses.
How Does a Drill Press Work?
A drill press consists of a base, a column or pillar, an overarm, a table, and a drill head. The base is the heavy bottom part of the machine that keeps it stable during use. The column or pillar is the vertical part of the machine that holds the overarm in place.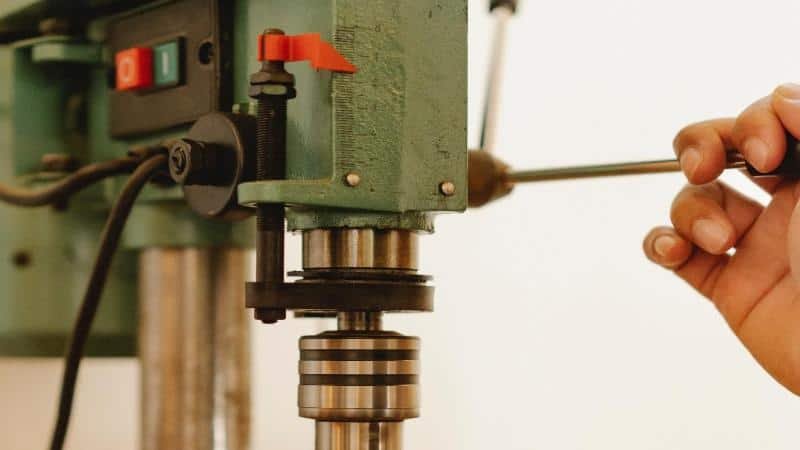 The overarm is the horizontal arm that extends from the column. It supports the drill head and allows it to move up and down.
The table is where you place your material to be drilled. It can be adjusted to different heights and angles to accommodate different materials.
The drill head is the part of the machine that actually drills holes. It contains a chuck (the part that holds the drill bit) and a motor (that powers the drill bit).
How To Use a Drill Press?
A drill press is a powerful tool that can be used to create precise holes in a variety of materials. While a hand-held drill can be used for this purpose, a drill press is much more accurate.
In order to use a drill press, first select the appropriate bit for the job. Drill bits are made from a variety of materials, and each type is designed for use with specific types of materials. Carbide-tipped are suitable for drilling through metal, whereas brad point bits suit wood use.
Once the proper bit has been selected, it is time to set up the workpiece. The drill press table should be adjusted so that the hole will be drilled in the desired location. Next, the depth stop should be set to ensure that the hole is not drilled too deeply. With the workpiece securely in place, the drill press can now be turned on, and the hole can be drilled.
It is important to drill slowly and steadily in order to avoid chips and splinters. When drilling through metal, it is also important to use cutting oil to keep the bit cool and prevent it from dulling too quickly. After the hole has been drilled, the drill press can be turned off, and the workpiece can be removed.
How To Choose the Right Drill Press for Your Needs?
There are a few things to keep in mind when choosing a drill press.
Types of Drill Presses
There are many different types of drill presses on the market. The most common type is the floor-standing drill press. These drill presses are large and heavy, and they are usually bolted to the floor for stability. They have a large table that can accommodate a variety of materials.
Benchtop drill presses are smaller and lighter than floor-standing models. They can be placed on a workbench or other surface, but they may not be as stable during use. Radial arm drill presses have an arm that extends from the column.
This allows you to drill holes at different angles and positions. Magnetic drill presses have a magnetic base that holds material in place while you drill it. This is ideal for drilling holes in metal.
Power and Speed
Drill presses are available in a variety of sizes, and they come with different power and speed ratings. The size of the drill press is determined by the distance between the chuck's center and the column. The larger the distance, the more powerful the drill press.
The speed of a drill press is measured in revolutions per minute (RPM). Drill presses typically have two or three speeds: low, medium, and high. Low speeds are best for drilling large holes, while high speeds are better for smaller holes. Medium speeds can be used for both applications.
Features
When choosing a drill press, there are several features to look for. One important feature is an adjustable table. This allows you to position the workpiece correctly for each job.
Another feature to look for is a depth stop. This helps to prevent you from drilling too deeply into the material. Some drill presses come with a built-in light. This can be helpful when working in low-light conditions.
Finally, some drill presses come with a dust collection system. This helps to keep your work area clean and free of debris.
Top 3 Drill Presses
Now that you know what to look for in a drill press, here are three of the best on the market:
The WEN 12-Inch Variable Speed Drill Press is a versatile and powerful tool that is perfect for a variety of drilling applications. Featuring a variable speed range of 580-3200 RPM, it can handle even the most challenging projects.
The visual laser guide ensures accuracy, while the convenient work light illuminates your work area. With a 1/2-inch chuck, this drill press can accommodate a wide range of drill bits. The solid cast iron base reduces vibration, ensuring a smooth and precise operation.
Whether you're drilling through metal, wood, or plastic, the WEN 12-Inch Variable Speed Drill Press is an ideal choice for any workshop.
BILT Hard is a trusted name in the world of power tools, and their 8-inch 5-speed drill press is a reliable and affordable option for anyone in need of a versatile drilling machine.
This drill press has a 1/2 horsepower motor and a 5-speed transmission, meaning that it can handle a variety of drilling tasks, from simple holes to more complex jobs.
The machine also comes with a built-in work light, making it easy to see what you're doing, even in low-light conditions. Perhaps best of all, the BILT Hard 8-inch 5-speed drill press is backed by a 1-year warranty, so you can be sure that it will stand up to the rigors of regular use.
The JWDP-12 is a compact and lightweight benchtop drill press that is perfect for a workshop or garage. It has a durable cast iron construction and a powerful 1/2 HP motor that can handle a wide range of drilling applications.
The JWDP-12 also features a 12″ swing, a 3-speed gearbox, and an adjustable depth stop for precise drilling. Additionally, the integrated work light ensures that your work area is well-lit, and the included chuck key ensures that you always have the proper tool on hand.
Our Final Thoughts
Whether you're a professional woodworker or a DIY enthusiast, a drill press is an essential tool for your workshop. With so many options, it's important to know what to look for when choosing a drill press.
Be sure to consider features such as variable speed, an adjustable table, and a depth stop. With these features in mind, you'll be sure to find the perfect drill press for your needs.