Reciprocating saws are highly versatile cutting tools capable of cutting a massive range of materials and one of their strong points is they are also very adept at being able to gain access into tight work areas that many power tools just cannot get into.
They are used for everything from metal, plaster, wood, piping and so many more materials all that is required is a quick blade change to match the material you are working with and you are ready to go.
In a Hurry? Here are the Best Reciprocating Saws
Some of the most common uses are trimming branches, cutting floorboards, cutting copper pipe, cutting plastic pipe, and cutting holes in plasterboard for installing electrical fittings but they are not limited to these, the versatility of these tools is incredibly useful.
The most important deciding factors when choosing a reciprocating saw is power, stability, and reliability if you have those 3 features you will have a tool that will be able to deal with pretty much any task you throw at it.
Some important features to consider are a blade brake this helps the blade from not snagging on the workpiece which can be a serious annoyance if you repeatedly have to wiggle the blade free.
The battery life on cordless models is also important to look at as a saw that only offers 10 minutes of use will leave you waiting far too often and will just frustrate you.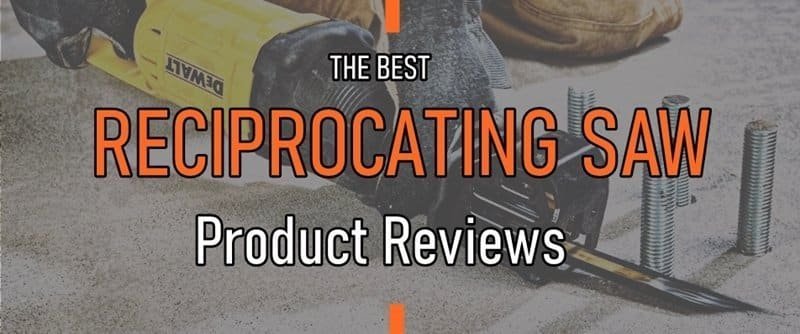 We have compiled a list of the top 10 very best saws in this category looking closely at the power, reliability and thousands of previous user's experiences to weed out the underperformers and bring you a choice of saws that will competent and reliable.
The 10 Best Reciprocating Saws
We have covered the best cordless reciprocating saws, the best corded reciprocating saws, the best reciprocating saws for those on a tight budget, and those who are looking for a contractor-grade machine.
The 5 Best Cordless Reciprocating Saws Reviewed
Let's go ahead and take a look at the top cordless reciprocating saws. Here are our five favorites.
1. DEWALT DCS380B 20-Volt MAX Li-Ion – Best Cordless Reciprocating Saw
This Dewalt is a gold standard in the power and reliability department with a 4 position blade fixing feature that allows the user to access any type of cut you need, it can get into tight areas and cut the material flush to a wall or cut branches flush.
It's impressively powerful and will stand up to pretty much anything you throw at it including metal and tough thick branches. It has a quick blade change feature that is particularly useful for users who are working on a range of materials.
The blade brake system that prevents the saw blade getting snagged in the work material is also a big plus because blade snagging is a major flaw with some of these types of saw and can quickly become frustrating if you have to constantly keep trying to free the trapped blade from the material.
The 20v lithium battery will deliver up to 30 minutes of really tough and aggressive cutting work like metal and thick tough branches and lasts for hours when using it on lighter cutting tasks, there is a higher amps battery available to purchase separately for professional users who will be cutting tough materials all day.
Another nice feature the Dewalt has is the adjustable blade length settings with 3 lengths to choose from this is another reason this tool can gain access into tight areas.
The Dewalt is well balanced and ergonomic so using it for long periods is not a problem it also produces very little vibrations and doesn't suffer the problem of the saw bouncing even when it's faced with hardy material.
This is a professional saw and will stand up to heavy constant work with no signs of overheating or the power dipping.
Our verdict: For a cordless reciprocating saw the power is truly impressive and it matches a corded reciprocating saw for
power but outperforms the corded version for usability and accessing limited space work areas.
A reliable and professional-quality saw that justifies its price tag by the sheer power and durability it provides.
Guarantee: 12 months standard manufacturers warranty with the option to extend it to 3 years fault and defects cover online.
2. WORX WX508L 20V – Best Low Budget Reciprocating Saw
This Worx power tool is very close to the Dewalt in terms of power and performance and it was a close call between the 2. With powerful cutting power, this is another saw that will live up to its claims of being able to stand up to tough and difficult materials like metal or thick wood and branches.
One advantage it has over the Dewalt is the speed setting modes so you can adjust the speed to match the materials you are cutting this prevents any overkill of using the powerful saw on lighter materials and will give you better control and extended battery life.
It has the tool-less blade change feature which saves time and effort when you are switching the workup.
It's 20v lithium battery pretty much matches the Dewalt's cutting time and it has an LED light to help keep you online.
At 5 pounds in weight, it's a very light unit and that is definitely a plus for your arms and wrists and long term users will appreciate that more than light users.
The pivoting footplate provides more stability whilst cutting and it has a pendulum function that Worx says provides a better cutting efficiency.
It sits very nicely in the hand and is well balanced with not too much aggressive vibrating.
It doesn't come with a carry case which is a small disadvantage but not really a major problem and if you have any other of the Worx 20V power tool products you can share the batteries between the tools.
It's been built to last and it will stand up to heavy usage without any problems.
Our verdict: A great saw at just over half the price of the Dewalt with many of the same positives the Dewalt has but just slightly less power and no carry case.
You can rely on this one performing well with a large variety of cutting tasks with ease and reliability wise it is a great choice and a well-deserved number 2 placement in this best reciprocating saw review.
Guarantee: 12 months of the standard manufacturer's warranty.
3. BLACK+DECKER BDCR20C 20V with 2 Batteries – Best Cheap Reciprocating Saw
The Black+Decker offers incredible value with 2 x 20v lithium batteries that have extended run time and impressive power that will enable you to deal with tough surfaces like cutting metal or hardwood.
It's is a really good price for the amount of saw you get, sure there are cheaper saws but not with the features and extra bells and whistles this one comes with.
It also has a variable speed trigger that gives you great control through the button without having to stop and change settings this is especially useful when dealing with lighter cutting tasks and prevents any overkill.
With the ability to take a 12-inch blade it will cut through large branches in a flash and we think this is the perfect choice for anyone who just wants the saw for trimming branches and bushes.
It doesn't have the same power as the Dewalt or the Worx but for light to medium cutting tasks, it's perfect.
Weighing in at 5 pounds it's easy to use for long periods of time and it is really finely balanced allowing one-handed use.
Verdict: Excellent value and our choice for light to medium use comes into its own for garden use and is the best reciprocating saw for trimming branches and bushes.
Guarantee: 12 months standard manufacturers warranty with the choice to extend to 2 years online.
4. TACKLIFE Advanced 12-Volt Max – Best For Trimming Small Branches
The Tacklife advanced is a very competent saw for garden use, like the Black+Decker in many respects it's very useful for cutting branches and trimming bushes.
It has some great features, for instance, it has a 1-hour quick charge that even the higher-priced saws don't come with, It also has a variable trigger speed setting, battery indicator, and tool-less blade change.
Another impressive feature is the clamp style jaws that hold the workpiece in place whilst you saw through them this provides great stability.
It's really light at 3.5 pounds and can accept up to a 12-inch blade.
It's a really excellent choice if you're on a budget and you are not sacrificing quality.
Don't be fooled by the price though it still has the power to deal with light to medium materials like 6-inch branches it doesn't have the power the Dewalt has but the Dewalt would be overkill for just trimming branches and you would be spending more than you need to complete those types of tasks.
It feels really good in the hand light and well balanced.
It's adept at cutting pipe, plastic and light metal materials and is built to stand the test of time in terms of reliability.
Our verdict: Don't be fooled by the 12v battery power this saw will deal with light to medium materials without any drama.
Really impressive value for the sheer amount of features you get for the low price it will be hard to beat in terms of value without sacrificing on quality.
Guarantee: 24 months standard manufacturer warranty.
5. Bosch 12-Volt Max Compact PS60-102 – Best Small Reciprocating Saw
This saw is slightly different for the other cordless saws we have featured because it has a small and compact design but packs a punch and is a very very capable saw.
It's lightweight and really at its most impressive when your working in tight spaces and is perfect for smaller cutting tasks no matter how tough the material it's faced with.
You will have no problem using this with one hand as it's really well balanced and sits in the hand beautifully.
It has overload charging protection and lasts approx 30 mins when sawing aggressively through tough materials and for hours on light usage like trimming 6-inch branches.
This is a very popular choice and has proved its worth to a large number of users with an incredible amount of 5-star ratings this proves it is a reliable power tool that will stand up to constant use and keep going time after time.
The blade brake prevents the saw blade from snagging in the material which is a common complaint of saw users.
Our verdict: Slightly different to the other entrants but comes into its own for accessing tight work areas, working overhead and ergonomics this really is a very easy reciprocating saw to work with. As reliable as any saw on the market you really get your money's worth from this compact tool.
Guarantee: 12 months of the standard manufacturers warranty.
Now, The 5 Best Corded Reciprocating Saws
Let's go ahead and take a look at the top corded reciprocating saws. Here are our five favorites.
1. DEWALT DWE305 12 Amp – Best Corded Reciprocating Saw
It's another Dewalt topping the list and it's the right choice for anyone who wants a professional powerful saw, it will come as no surprise to anyone who has already owned a Dewalt saw as they will already know how powerful and well built they really are.
This one is no different highly powerful and versatile you can pretty much saw any material that the blade is long enough to reach. It will cut through strong branches, thick wood, and dense metal all day without any drama this is probably as good as it gets when talking about the best reciprocating saws. This is numero uno. A beast of a saw.
We have even seen users who have used this saw for cutting cars up that's how tough it is.
It has a 12 amp motor capable of up to 2900 strokes per minute and pair that with the variable trigger control it makes for an incredibly versatile beast that will chop pretty much anything you throw at it.
Changing the blades is made easy with the tool-less blade change so you can quickly switch the materials you are working with without any fuss.
This is a professional grade saw and we can't praise the power it provides enough.
It weighs about 8 pounds but it's nicely balanced and sits in the hand really well.
It has a 4 blade adjustment setting so you can adjust the blade so you can get really nice and close to the ends of your workpiece and cut it perfectly flush.
This particular package comes with 10 various high-quality blades included so it's ready to go straight out the box.
It doesn't come with a carry case just the cardboard box it comes in which is a minor disappointment.
Verdict: Super powerful reciprocating saw that will chop through any material you put in front of it with very little vibration and no bounce at all. An absolute animal of a power tool that deserves it number 1 best reciprocating saw position just on power alone.
Guarantee: 1-year manufacturer's warranty.
2. Milwaukee Sawzall – Powerful 
The Milwaukee is another 12 amp beast that offers impressive power but with a low vibration motor it makes working for long periods much less taxing on your arms and wrists.
The gear protecting clutch provides a longer life for the motor and helps prevent snagging on the blade which is a well-known problem for some of these types of cutting tools.
It will also cut through pretty any material it's faced with, metal no problem, wood easy work, steel pipe done It's definitely a well-rounded power saw.
This saw is manufactured in the USA and has been built stand up to heavy and continuous use so it scores highly in the reliability department.
We really liked this one it weighs around 10 pounds but it sits in the hand very nicely and is well balanced.
It's not quite as powerful as the Dewalt but it's very close and it will deal with aggressive cutting you put it through.
With a variable speed trigger, it is capable of 0-3000 strokes per minute making it a versatile saw that justifies its price with power and performance most of the other saws can only dream of.
Verdict: Powerful, well balanced and built to last making this one of the best reciprocating saws that will not leave you with buyer's remorse.
Guarantee: 12 months standard manufacturers warranty
The Milwaukee Sawzall also comes in a cordless version now.
3. Makita JR3050TZ – Best Reciprocating Saw For Cutting Branches
With an 11 amp motor, this is a competent cutting tool that will make short work of branches and fairly thick pieces of wood. It's not quite as powerful as the Dewalt or Milwaukee but it's more than capable and is a well-built power tool.
It has the quick blade feature that we have become accustomed to and offers variable speed through the trigger making it adept at dealing with a wide variety of materials.
It comes with a couple of blades and a good quality sturdy carry case.
With the ability to hold a 12 inch saw we found it is best for branches and wood up to 8 inches and will work through those without any problem or overheating.
The Makita has been built to last and has rubber seals protecting the motor and other internal parts, it also has an inbuilt blower to clear dust whilst it's working although there won't be much requirement a dust blower as the dust is mostly dispersed away anyway.
Weighing just 7 pounds it's one of there lightest saws in the corded category and with continuous use that can only be a good thing.
It's good value for money and will be a very useful cutting tool to have in the toolbox.
Our Verdict: Is it as good as the Dewalt: No but it's still a great saw in its own right it will stand up to tough tasks and will not break down after a short time. It's also quite a bit cheaper than the Dewalt so that has to be considered.
Guarantee: 12 months manufacturers warranty.
4. Hitachi CR13VST – Value For Money
Very similar to the Makita at number 3 this has the 11 amp motor that is both powerful and versatile with variable speed through the trigger helping deal with a large variety of materials with no problems.
It also has a 0 – 2800 strokes per minute system so it's no slouch and this preserves the blades life.
It also has the added bonus feature of orbital settings so you can switch the blade movements to what suits the material your cutting the best.
With an LED light that helps you stay perfectly on line and low vibration, it improves the accuracy of your cutting plus the bevel gear system improves the durability of the saw.
Hitachi has really stood behind the quality of this saw by giving it a 5 years manufacturer's warranty and you won't find any of the other top power tool manufacturers offering anything near that amount of cover.
The tool-less blade change helps to minimize the time spent swapping blades although that is very common now among these saws.
With a low vibration motor, it helps reduce the strain on your body over long periods and the light 7 pounds weight makes it a pleasure to work with. A nice added bonus with this power tool is the sturdy carry case it comes in.
Verdict: A really great performing saw and serious value for money. Reliable, powerful and low vibration.
Guarantee: 5 years manufacturer warranty.
5. Skil 9206-02 – Low Budget But Not Low Quality
It's quite a powerful saw that is best suited to light work around the house and garden, for example, it is more than capable of cutting branches and light metal or pipework.
It doesn't come with variable speed but it's a very capable saw that will not let you down in the reliability department it's been built to last with heavy-duty gear housing.
The low vibration counterbalance motor is a nice feature that improves usability and the 7.5 amp is not as powerful as many of the other entrants in this review but it's no weakling.
1 blade is included but it's not of a very good quality and you would be better off buying some blades that are good quality because these saws are only as good as the blade that it is fitted with if you have poor quality blades then it won't matter how good the reciprocating saw power tool is the blade is always the weakest point and will struggle to deal with any material.
Verdict: An absolute bargain for anyone who only wants to deal with light-medium work like 6-inch branches or light metal and highly reliable power tool that will not give up the fight within a short period of time. You don't have to sacrifice quality for price with this Skil saw.
Guarantee: 1-year manufacturers warranty.
What to Look for When Buying a Reciprocating Saw or Sawzall
Power
Always buy a saw with a powerful motor and a good number of strokes per minute. Far too many reciprocating saws are underpowered and this is the number 1 reason for a saw having disappointing cutting power, it doesn't get much worse for a power saw having no power it is just a waste of time and money.
The amps of the motor are also a good indicator of how the saw will perform, try to find a cordless with at least 5 amps and the corded versions should be a minimum of 7 amps with the professional-grade tools having around 12 amps.
Variable speed
This is especially useful when you are working with a large variety of materials because you can set the saw to the best speed for the work you are doing so the saw will not be too aggressive giving you the cleanest cut, preserving the battery on cordless saws and extending the saws blade life too.
Cordless battery life
The best battery powered saws are those with 20v lithium batteries they normally run for around 30-40 minutes for really aggressive cutting work like metal or thick wood and branches.
Reliability
We have only included the most reliable tools in this guide but you should always look through previous buyer's experiences and these can be found in the reviews section of most of the big retailers and give you a really good picture of how reliable they are over time.
Saw blades
No matter how good the saw is it cannot meet it's maximum cutting capabilities without good quality blades, always choose quality blades they aren't expensive and good quality blades really make a massive difference to the performance.
Another important factor is using the correct blades for the material your using, metal blades perform very poorly when faced with wood and wood blades perform even worse when being used for metal materials it also shortens the blades life considerably.
Blade brake
This is a very good feature to have on your side because it can get really tiring really fast when you have to keep trying to free the blade from the workpiece the blade break prevents the blade snagging and will save you the stress of fighting the blade free every 5 minutes.
Guarantee
This can be the difference between money well spent and money down the drain always make sure you get at least 12 months warranty. The more warranty the better.
Safety
You should wear tough hard-wearing gloves and safety goggles to be on the safe side it only takes a split second to slip or to have a piece of wood debris to enter your eyes.
Recent product reviews
Best Belt Sander Buyers Guide and Reviews
Best Router Table Buying Guide and Reviews
Best Drill Press Buyers Guide and Reviews
Best Electric Chainsaw Reviews and Buyers Guide
Best Jigsaw Product Reviews and Buyers Guide
Best Angle Grinder Reviews and Buyers Guide
ABOUT JOHN LEWSAM I am a 40-year-old qualified electrician with many years experience in the trade and many more years in trades that have required me to use a massive variety of power tools. I have over 20 years of power tools experience. Read more about me