A job site without a sliding miter saw is as good as a boat without water to float on. This strong tool has been used for decades to make smooth and accurate crosscuts in a matter of a few seconds. However, this isn't it. Apart from crosscuts, it's also pretty useful for creating compound, miter, and even bevel cuts.
If you're relatively new to the idea of working with this tool, remember that the hunt won't be easy. Finding the best sliding miter saws is all about determining your needs and budget. Furthermore, with a plethora of options to choose from, the task won't get any easier. Understanding what features matter the most and how you can use this tool to accomplish certain goals should be a good place to start from. Hence, here we have a list of options with their relevant pros and cons to help you land the product best suited for your workshop.
The 5 Best Sliding Miter Saws
Let's go ahead and take a look at the very best sliding miter saws available.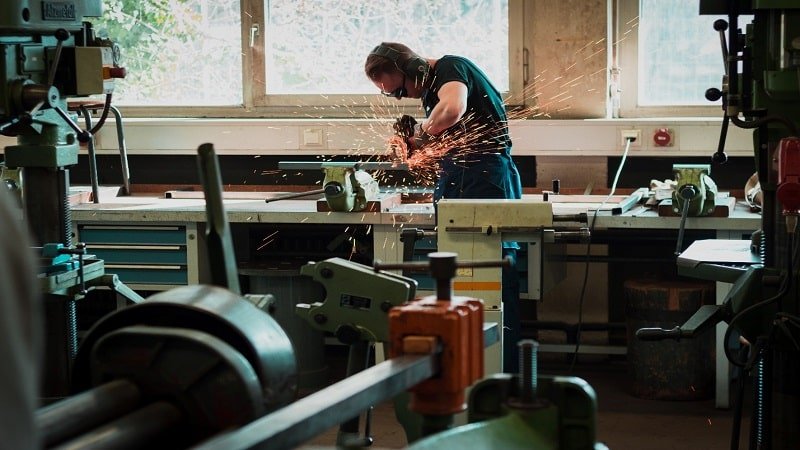 1. Metabo HPT C10FSHCTM Miter Saw
The Metabo HPT Miter Saw should effortlessly grab the first spot on this list. It's the epitome of the idea of "great features at an amazing price." Firstly, it has a 12-inch blade which gives you a decent capacity to cut. Then, there's the sliding function which increases the cut width.
Since it has a compact slide mechanism, the saw can easily fit against the wall of even the smallest shop. Furthermore, through its dual bevel for compound cuts, you can experiment with the tool in any configuration. However, nothing matters more than your safety, and this is where its LED light feature comes in handy.
2. Ryobi TSS103
There's absolutely nothing better than getting your hands on a 10-inch sliding compound miter saw at a price that perfectly complements its value. With a 12-inch crosscut capacity, this miter saw can spin the blade at 4600 revolutions per minute.
What's more? Well, you will also get a work light and an LED cutline indicator, making the process of cutting easier with adequate illumination. Keeping your work area clean is essential, and this product completely gets it.
Hence, this is where the dust port comes in handy. While this may not be an ideal choice for tough materials, you can definitely get enough work done for your DIY projects.
However, if you're an occasional user, this one should most likely qualify as one of the most affordable and best sliding miter saws for homeowners.
3. Festool Kapex KS 120 REB
Once you get your hands on this one, its incredible refinement will speak for itself. This "REB" model only tweaks a few small details on the Kapex KS 120 EB saw. Rest assured, the features you'll find here will most likely be rare elsewhere.
With its dust hood alone, you can collect as much as 91% of the dust. Furthermore, you'll also get to enjoy the perks of amazing clearance off its back fence. There are also many other functions the Festool sliding miter saw performs, such as giving you a dual laser cut line. All in all, it's a complete package. It's strong, smooth, and quite simply, it's unmatched. While there's always more to check out, know that tripling the price and getting it will just not be worth it.
4. Skilsaw SPT62MTC-22 Dry Cut Metal Saw
While it's technically more of a chop saw than a miter saw, it has managed to emerge as an upgraded version of the metal-cutting setup. As of now, it's far from an entry-level-dry-cut saw or an abrasive chop saw.
Furthermore, it runs on economical 12-inch blades and also measures up to 40% less than the competition. What makes it a smooth saw is the Diablo blade which often makes you want to slow down, or else you may end up cutting way too quickly.
5. Metabo HPT 36V MultiVolt C3610DRA
Let's start off by acknowledging one of the most impressive features of this Metabo HPT 36V miter saw. From excellent crosscut depth to running off dual-power, this one has a clear selling point. Moreover, the miter, bevel, and slide adjustments work perfectly well and smoothly.
Even though there were some issues with the integrated laser in terms of adjustment, this miter saw still deserves all the praise it gets. However, do keep in mind that it works best for 3-1/2 base and smaller. Nonetheless, it qualifies as one of the best sliding miter saws in the market.
6. DEWALT Sliding Compound Miter Saw (DWS780)
We've listed a good number of options for those involved in serious and time-bound projects, but if you're someone who's looking to purchase their first ever miter saw, then the DeWalt DWS780 is the perfect choice for you.
In fact, it's a lot more practical to purchase if you're still on the fence about getting a sliding compound miter saw. Here's the cherry on top. It is as suited to a hobbyist as it is to a professional. With its sheer precision, this one won't disappoint you.
Furthermore, the blade on this miter saw has the ability to tilt in both angle directions, assisting you in making cuts without adjusting anything.
Our Final Thoughts
In the end, your very first miter saw may just end up being either your best or worst investment, whether you're a professional contractor or a rookie who has just started out. While they're all designed to rotate at certain speeds and help you cut precisely with their super-sharp blades, not every tool is worth purchasing.
Most of your early success as a professional contractor will be due to this one item in your garage. Hence, finding the best sliding miter saws is all about researching, experimenting, and, of course, taking risks.
However, with this small yet detailed guide, we're hopeful that you'll eventually find the one that best fits your needs and budget.