A warm fireplace reflects the comfort of home. A well-designed fireplace often is the focal point of any room. The whole family can lounge around the fireplace and read books, watch movies or engage in conversation and laughter. However, finding the best wood for fireplace mantel can surely be challenging. The right choice of wood will depend on many features, such as the room's theme, how frequently the fireplace is used, and the size of the room.
Let's look at the different types and categories of wood below and how perfectly they would fit a fireplace mantel.
Hardwoods vs. Softwoods
When it comes to fireplace mantels, hardwoods supersede softwoods. This is because hardwoods are, comparatively, more durable, hardy, last longer, and maintain a shiny, new appearance. Even though certain softwoods such as Cedar are suitable too, they can get dented and scratched over time.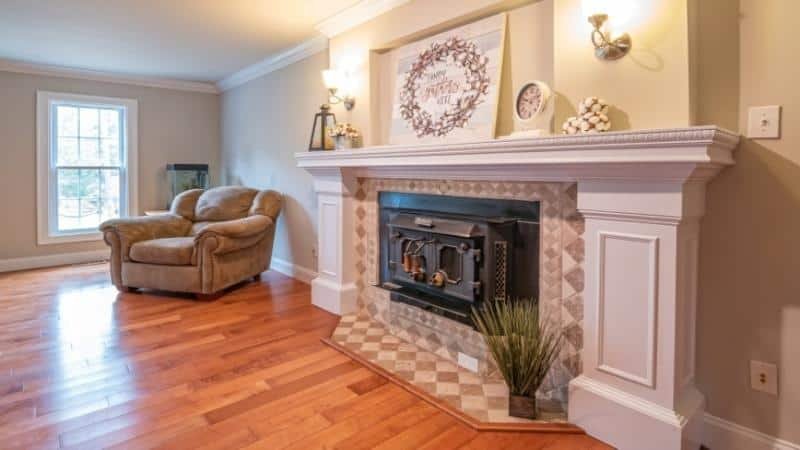 Light and Dark Woods
The color of the wood is also a deciding factor when considering the best wood for fireplace mantel. The wood's color needs to complement the space around it. If you have lighter walls with lighter accents in the room, a pale color wood will fit. Both red and white are great options as they lighten over time. Poplar is also a great option.
Dark woods add richness and class to the space. Popular dark woods include walnut, cherry, and mahogany. These woods are also comparatively more expensive. Dark woods are available in many color tones, such as deep browns, black, and shades of red. A light stain is recommended for these woods as it allows the already rich color of the wood to show.
Let's consider the best wood for fireplace mantel in detail below.
Mahogany
Do you want the fireplace to be the focal point of the room? If yes, mahogany is the way to go! Once it is sanded, polished, and varnished, mahogany creates glossy, eye-catching appeal. This luxurious wood is renowned for its robust nature and comes in dark brown and medium brown shades. This classic wood is not affectionately termed 'magnificent mahogany' for no reason!
Oak
Oakwood has a beautiful and hardy grain. This hardwood sits quite well once it is sanded and smoothed. Oak is also paler than other hardwoods; hence, this is the perfect option if you want a lighter mantel.
Maple
If you want a shaded mantel, maple is an excellent choice. This is because maple comes in various shades of light brown. Like oak, maple's natural beauty is apparent as it also has strong visible grain patterns. This is a robust material that can handle high pressure. It also sands and finishes quite well.
Hickory
Hickory is also a durable wood that can handle high stress. It has unique coloring and, once finished, is an excellent option for fireplace mantels. Hickory has a darker color than maple and a straighter grain than most other hardwoods. It is often also used for baseball bats and tool handles due to its ability to absorb pressure.
Cherry
Cherry wood can also be used for fireplace mantels. Even though cherry woods are not as durable as other hardwoods, they last longer than most softwoods. In comparison to other hardwoods, cherry woods cannot take much wear and tear. The reason homeowners choose cherry wood for fireplace mantels is that cherry wood can be shined enough to resemble mahogany.
The 2 Best Wood for Fireplace Mantel
ASIN: B088KQLGWD
These premium Douglas Fir boards measure 1 by 3 inches and are available in customized lengths. You can avail the boards in 3 to 5 feet. These boards are a great buy and add value to your home and can be used for versatile purposes such as decor, framing, and woodwork. They are also easy to maintain and retain their structure in the long term. These boards also come with a refund and return policy if unsatisfied with the final product. With proper usage, these boards are safe to use and environmentally friendly. These lumber boards are also easy to cut and easy to use.
ASIN: B08GRNLM7R
These Cherry Lumber boards are solid hardwood that measures 6×1.75×0.75 inches in size. These boards are finished on all sides and are great for renovation and home improvement projects. These versatile planks can also be used for furniture building and crafting activities. These planks work well with both hand and machine tools. They also have a fine and easy grain to work with. They also have a deep reddish-brown color that darkens when exposed to the sun. When finished, these boards are quite satiny to the touch. These boards also have dark gum dots that make them all the more interesting. They also come with a refund or exchange policy. If you are unsatisfied with the final product, you can exchange or request a refund within 30 days of purchase. The item weight of the product is 1.6 ounces.
Our Final Thoughts
The mantel is an extremely important part of a fireplace. Choosing the best wood for fireplace mantel will ensure a beautiful mantel that gives the room an edge. This mantel will stand the test of time, but it will also uplift the entire appeal of the room. Hardwoods make great fireplace mantels due to their sturdy qualities and longevity. Softer woods tend to crack with time, hence are not the most popular options. Different hardwoods also have different properties, and choosing the one that fits your needs is imperative. The variety of wood you choose will also depend upon your budget, how you want your mantel to look and how frequently you will use the fireplace.