Live-edge tables have become a style statement recently as they reflect how sophisticated the person is. They have a more modern look than traditional wooden tables, mainly because of the natural curved edge live-edge tables have in at least one corner. This makes such tables more appealing than the conventional ones.
Since live-edge tables have become a modern accessory for many homeowners, they must be made from the best quality wood. If top-notch wood isn't used to make live-edge tables, they probably won't offer the same value. So, please ensure to search for the best wood type before ordering or making your live edge table yourself.
Let's explore a few wood types considered best for live edge tables.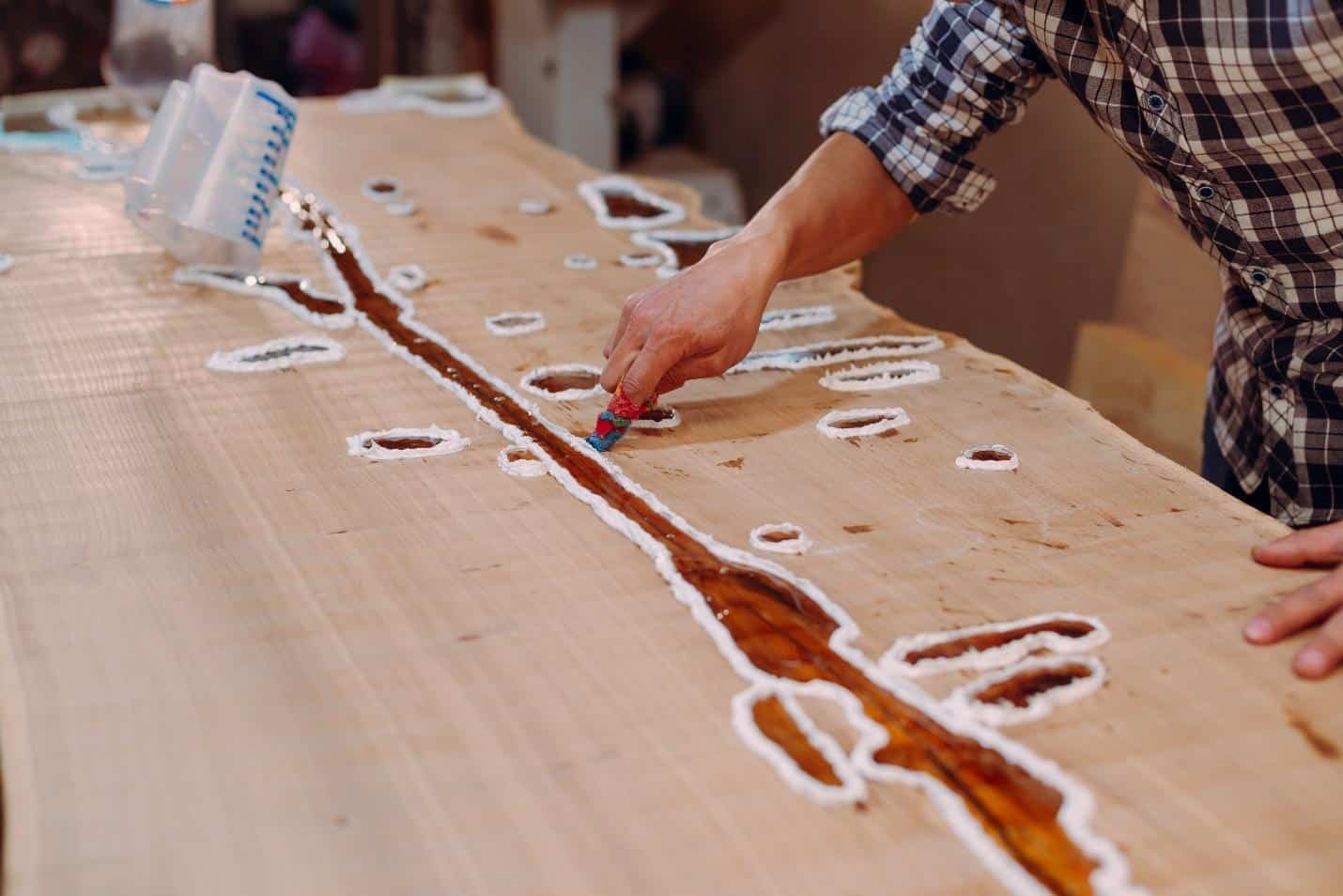 Live Edge Tables: What to Consider
If it's your first time buying a live edge table, you must know certain things that will help you get the best one. As far as live-edge tables go, you'll have to have a sharp eye to see which one works the best for you in your home. So, below are a few features or factors you should significantly consider before bringing home a live edge table.
The Slab
The slab is a piece of wood placed on top of the table; you may call it a tabletop if you must. Slabs are typically cut directly from the tree, keeping the length in mind. So, the longer the slab is, the more surface volume your live edge table will have. This makes the table ideal for setting up in your living room. Hence, the slab is something you'll have to think about.
The Slice
The slice is a wooden piece cut horizontally from the tree. You should know it's round in shape, making the growth circles of the wood more evident than ever. So, you will have to think about the slab and the slice, respectively, whether you want a long or round live edge table. The latter is mainly used as small side tables placed in bedrooms or study rooms.
The Burl
Burl is actually considered a deformity in the timber world; however, it looks stunning when a burled wood is extracted from the tree. This deformity happens when trees go through a rounded outgrowth, making the wood look much different than usual. When such wood is used to make tables, they become a luxury item as they have stunning grains and a beautiful texture.
Best Wood for a Live Edge Table
A live edge table must be constructed from the best quality wood if you want it to be sturdy. Also, if the quality has been compromised, the table might not last very long.
Since live edge tables are priced higher, you'll have to ensure the wood used doesn't wear out quickly, or you'll be staring at a loss. As we want you to avoid that, we've made a list of the best wood types for live edge tables.
Redwood
Redwood is considered one of the best woods to work with, probably because of its softness. It's easier to cut since it isn't very hard, especially for a live edge table. Since such tables have an edge in one of the corners, redwood is easier to carve. Another reason to use redwood is the color.
This wood comes in dark and rich shades, giving it a classy look. Redwood has straight grains and is highly resistant to insects and termites. So, you won't be worried about this wood going obsolete and replacing it soon. Overall, redwood will help make an excellent live edge table.
Black Walnut
Ask any professional woodworker, and they'll tell you what black walnut wood means to them. This wood is highly regarded in the timber world as one of the sturdiest woods, making it pretty popular. Black walnut is tightly grained and offers plenty of density.
The denser the wood is, the more it'll stay intact. Also, black walnut's strength and durability are unmatched, so many people opt for it. This wood has excellent finishing properties and a highly smooth polish. So, if you want your live-edge table to be robust, black walnut should be your choice of wood.
Cherry
Another excellent wood on the list is cherry. This wood type is perfect for a live-edge table as such tables are known for oozing beauty, and cherrywood has a stunning appearance. We're saying that using cherrywood to make a live-edge table would make complete sense.
This wood works well with all tools, making it convenient to be around as it doesn't have any complications. It has a reddish-brown color, making whatever it's used for pop immediately. If you want a table that acts as a head-turner, buying a live-edge table made from cherry will serve you well. Hence, we give this wood two thumbs up.
Maple
Maple is regarded as one of the strongest woods in the market as it provides a great deal of sturdiness. However, you should maple isn't the most straightforward wood to work with. This doesn't make it unsuitable for building items like live-edge tables.
But whoever's working with it should be prepared for the few complications they'll face. On the more positive side, once maple has been used successfully to make a live-edge table, you won't be disappointed with the quality.
It's priced high for a reason, so please know that you won't have to regret buying a maple-based live-edge table. In short, maple wood is highly durable as it lasts pretty long.
Oak
If you're willing to spend a generous amount of money on your live-edge table, getting one made from oak will serve the purpose. Whether white or red, oak will provide excellent quality and strength, ensuring your live-edge table looks stunning wherever you set it.
Many people regard oak as a go-to piece of wood if they're looking for a piece of gorgeous wooden furniture. Since oak offers numerous benefits, we suggest you look into it when you go shopping for a live-edge table, if you have the budget, i.e.
We assure you that you won't be disappointed with the sturdiness of this wood type.