If you're in the research stage of trying to find the best corded angle grinder for the money you will first need to start off with considering what work you are going to be carrying out as this will help you decide which features are the most needed.
In a Hurry? Here are the Best Angle Grinders
Of course, some features are going to be important to all users for example reliability will always be at the top of the list for everyone because it doesn't matter how powerful or light the grinder is if it's not going to last 10 minutes it's going to be useless to you and a waste of your money and your time.
The 5 Best Angle Grinders
We have used our knowledge of many years of using power tools to cover five of the best products with in-depth research to help you pick a quality product that will do you proud and not leave you with buyer's remorse.
You will be able to find the one that matches your requirements in one of these products.
We will start with the one that we consider the best rated overall… the DEWALT DWE402 4-1/2In 11 Amp with Paddle Switch Angle Grinder. In our professional opinion, this angle grinder is a really high-quality piece of engineering and a tool that you can trust to not fall short in performance and last you many years of happy cutting or grinding and will also cover 4 more of the best angle grinders that are high-performance tools.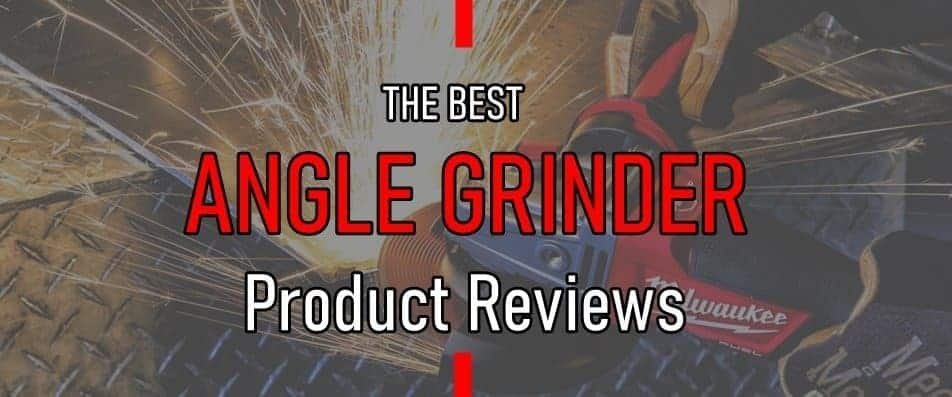 The 5 Best Corded Angle Grinders
Let's go ahead and take a look at the five best corded angle grinders we could find.
1. DEWALT DWE402 4-1/2-Inch 11-Amp – Best Corded Angle Grinder

For high-quality construction and power, the DEWALT DWE402 is a gold standard Angle Grinder power tool and an easy choice for number 1.
Based in the USA, this industrial-quality angle grinder exhibits incredible performance.
For those who don't know, Dewalt is a well-known brand in the power tool industry. They have seven manufacturing facilities in the USA that produce most of the typically-used power tools out there especially favored by professional contractors owing to the performance and reliability of their power tools. So, the company behind this angle grinder enjoys a shining reputation in the market and it's easy to see why after just a short time using it.
Product Features:
Let's drill down into the product specs first, the voltage on this grinder is 120v, 11 Amps, 1400 watts, and it has an impressive and powerful 11,000 RPM (revs per minute) motor.
The power to weight/size ratio of this angle grinder is immediately noticeable and very impressive. It's so easy to work with because it's so light and balanced and sits in one hand perfectly.
Given the compact size, it's also easier than the usual large versions to operate this tool in tight spaces which can be a big advantage for anyone working on machines or vehicles where they don't have their workpiece conveniently on a work table. It's also not too heavy for long periods of use and it cuts smoothly with very little vibration passed through the grinder and the material you are working on.
This Dewalt has been designed to withstand the test of time with oversized motor brushes providing double the life span its predecessor the D28402 offered and on top of the improved brushes it has been built with a large spiral bevel gear that increases the grinders transmission life so it has been designed to have a long working life even with sustained and heavy use.
Based on both the price and performance we have chosen it as the best angle grinder out of the 5 that made the list because the others in the same price spectrum don't have all the features and the over-engineering that this Dewalt has.
Pros:
Unlike some of the lesser quality angle grinders, this one will never burn up when a heavy load is put on it and the angle grinder has a very clever feature that disengages the motor drive to prevent you from damaging the motor and disc.
This is especially important when cutting materials that can cause the grinder disc to snag or bite on the material which is extremely dangerous for the user because the disc is at risk of breaking up and at 11000rpm the bits of the disc disintegrating could cause serious damage to the user, the anti-engage helps prevent this from happening and that is a very important safety feature that we would like to see on every grinder but it's only really on the better models at the moment.
The tool-less disc change is also a great feature of this grinder especially if you are a heavy user you just press the lock button in and twist the disc to release it and quickly switch discs that will be very attractive to daily users because fiddling about with the grinder key every time you want to renew or change disc type can get a bit tedious after a while.
It has a reliable dust ejection design system that sends the dust, grindings and any hot debris away from the user's hands or arms plus with its one-touch guard you can easily and quickly keep changing positions which s another convenient and time-saving feature that constant users will appreciate.
The 2 position handle is both convenient and user-friendly.
By looking through all of the feedback and the user's reviews on this product so we can see it's long-term performance it's clear to see it's considered a very high-quality angle grinder that is loved by the vast majority of its users and it's been designed to last through a long working life.
Dewalt has stood by their belief in the quality of this product by offering a 3-year limited manufacturer's warranty. So if in the unlikely event that anything fails on this power tool, you can send it back for treatment and have it repaired for free. Most of the other power tools only offer a 1-year warranty so you can see Dewalt have confidence in the working life of this angle grinder.
Cons:
It's hard to find any cons for this power tool but and the only thing that we could find slightly disappointing is the fact it doesn't come with a sturdy carry case just the box it comes in. but that's not a big drawback for most users who will have their own tool bags and toolboxes.
2. Hitachi G12SR4 4-1/2 Inch – Best Low Priced Angle Grinder
If you are looking for an affordable angle grinder the Hitachi G12SR4 power tool is a good choice.
At 4 lbs, it's a light and compact angle grinder that is ergonomic and provides great user control and maneuverability.
Product Features:
Although slightly less power than the Dewalt at 10,000 RPM, it is still up to the job. This angle grinder is built for rugged use. We have found it gets a bit warm with heavy use, but not hot so that's no biggy.
With the Anti-overheat feature that will shut the grinder down until it cools itself down if it ever reaches a too high temperature,  you won't ever run the risk of burning the motor out.
It has a 110v, 980W which is not as powerful as the Dewalt but it still packs enough power to be a competent and powerful cutting tool.
Pros:
The Hitachi G12SR4 is a highly versatile power tool. It has various speed capabilities for precise cutting. Better yet, it doesn't overly vibrate making it less tiring on you and helps to achieve a better cut.
It fits well in the hand, and it has a trigger lock. The trigger lock is smartly located on the side in a position that prevents it from being switched on by accident which is an important safety feature for any grinder to have.
This Hitachi G12SR4 is priced at the lower to the mid-priced range and it comes with five abrasive wheels included in the price. It also comes with a good, solid carry case.
It has a 5 Year manufacturers warranty which is unheard of for power tools and this shows the confidence Hitachi has in this power tools reliability.
Cons:
One thing this grinder does lose points on is the not too detailed user manual and if you are less experienced with angle grinders you might find this to be a bit of a problem. Although better instructions can be found on YouTube so it's really a minor point. If you have experience of using angle grinders this won't be an issue as it's the same set up as 90% of the grinders on the market.
3. PORTER-CABLE PC60TPAG 4-1/2-Inch – Powerful Grinder Tool
This is another great angle grinder in the mid-priced category.
It's hard to beat this angle grinder for the quality of use to price ratio. It has plenty of power and will stand up to heavy and continuous use without giving up the ghost when you are in the middle of a job and most need it.
It's another 11,000 RPM beast that is a very capable grinder!
Product Features:
The handle on this angle grinder is made from high-quality plastic that doesn't flex and this helps distribute all the effort into the grinding.
The product comes with two guards; one for cutting and one for grinding which is a nice addition.
With a 3 Year limited manufacturers warranty, PORTER-CABLE have demonstrated their confidence in this grinders reliability
This unit features a unique 3-position handle for greater control and comfort during use. You don't have to apply massive amounts of pressure to get the best out of this tool you can let the power do the work.
Pros:
This angle grinder feels great in the hand and is very easy to operate. It features a large paddle switch, which we found was easy to operate even with thick gloves on.
It can withstand heavy and continuous use even professional work-site use won't be a problem. The PORTER-CABLE PC60TPAG 7-Amp 4-1/2-Inch Angle Grinder will not let you down in the reliability stakes as it's been built to last and it will withstand heavy use against tough materials.
It comes with a 3 Year limited manufacturer's warranty which means as long as there are no signs of misuse Porter-Cable with fix the grinder for up to 3 years after purchase if it develops a fault.
Cons:
Not as powerful as the Dewalt and it doesn't come with a sturdy carry case just comes in a box but it's lower price tag makes this a great choice still.
4. Makita 9557PBX1 4-1/2-Inch – Best Angle Grinder for Cutting Metal
For a strong performing grinder, the Makita 9557PBX1 4-1/2-Inch Angle Grinder is another bargain. For any sort of metalwork, this product is a really good choice for many reasons. It's rugged, solid, durable, powerful, and comfortable to use, all at the same time.
It's another 11000 RPM cutting tool with some clever features that improve its performance and reliability.
It makes easy work of cutting steel and will not let you down in terms of power. It looks, acts, and feels like a high-end product from top to bottom without costing you the top end prices many grinders with matching performance do cost. Makita is a well-known company in the power tool market and has a great reputation for producing long-lasting high-quality tools.
Product Features:
This has a great balance, a good amount of power and we found another good point of this grinder is it's very quiet for an angle grinder which is rare.
It has a lock on/off that is located in an easy to operate position and it is very well balanced weighing just 4.5 pounds.
Another great detail of this power tool is the kickback prevention feature, which is so very important because it's much safer to work with a grinder without having to worry about it biting into the cutting material and kicking back and it also reduces the chances of an exploding disc which if you have ever seen a disc brake whilst in use you will know it's the most terrifying accident that can happen whilst using a grinder and the injuries this can cause vary from having a part of the disc lodged in your body to as bad as a fatal injury.
With its dual ball bearing power transfer system it helps produce an impressive cutting performance, this is one of the better angle grinders you can have in your toolbox and it runs the Dewalt very close for first place.
It's sealed design prevents dust and small parts from reaching the motor and damaging it and this will help to extend the life of the motors and components of the grinder.
It can easily meet the needs of both occasional users and can stand up to everyday use.
Pros:
It has a big pedal switch, which makes it both safer and easier to operate, just as important it has a low vibration motor which makes cutting easier on your hands and arms especially over long periods and gives you a more precise cut.
We really were impressed with the professional aluminum suitcase-style carry case which helps protect the grinder and helps to keep everything tidy and organized.
For the price, you will struggle to find a better grinder. It's a hardworking reliable power tool that will provide you with many years of good service.
Cons:
It is only covered by a 1-year manufacturer's warranty which is adequate but not as good as the 3-year warranty some offer with their power tools.
5. Bosch 1375A 4-1/2″ – Best Budget Angle Grinder
Whilst testing these grinders we came across the Bosch 1375A 4-1/2″ Angle Grinder and we consider this another great option.
Not only is it powerful, but it's also very easy to work with. This angle grinder is really impressive for its price and the name 'Bosch' speaks for itself. Right off the bat, it screams top-quality. For those who are not aware, Bosch is one of the best known and high performing Companies in the power tool domain.
With a proven history, many of their products last for many years and this has cemented their reputation amongst professional tradesmen.
Product Features:
For no-fuss performance, the product comes with a 6.0-Amp motor that delivers an 11000 no-load RPM. It grinds and cuts very impressively and is a popular choice.
The Bosch 1375A 4-1/2″ Angle Grinder has a great handle position and angle that helps increase the operator comfort.
It has a low vibration motor that reduces stress on the arms and hands without sacrificing the performance which is a big plus for frequent users.
Built to withstand heavy and frequent use of grinding and cutting without any chance of burning the motor out or reduced performance. It's perfect for casual or heavy use.
This is another quality built to last grinder packed with features that help it achieve high performance and reliability.
Pros:
At 3.75 lbs, it's very light for a product of this nature. Given its compact built and its lightweight, it makes you appreciate how good this angle grinder is and it came into its own when we were using this angle grinder with just one hand.
The product's longevity cannot be doubted it has been designed and built for use at home and for tough tasks in the workshop.
There's not too much of a performance gap between the Bosch 1375A 4-1/2″ Angle Grinder and the models that cost considerably more than the price of this product.
Cons:
Slightly noisier than some of the low noise grinders on the market but I put that down to the power output this grinder produces.
Only a 1-year warranty.
No carry case just the box it arrives in.
Angle Grinder Buying Guide
Which is the Best Angle Grinder for You?
So that concludes our list for the best angle grinders and we hope we have helped you to find the correct one for your needs.
For heavy use, the Dewalt is going to be hard to beat but we have been careful to select the top performers in this category so you can't go far wrong with any of the choices in the top 5.
Many good grinders didn't make it into this list because we only chose the ones with the best features and highest reliability factors that have pasted the test of time.
Angle Grinder Disc Sizes
The most common sizes available in the market are 4-1/2-inch, 5-inch, 6-inch, 7-inch, and 9-inches. For the majority of the common applications, a disc size of 7 or below should suffice. Only for larger cuts, you might have to choose an angle grinder with a larger disc size.
So, depending on the work that needs to be done, you will have to carefully handpick a product with the right disc size for the depth you require.
Angle Grinder Motor
We don't need to tell you that you should never buy a grinder with an underpowered motor. After all, it will just fail terribly, cause you to waste time/effort and if it has a low powered motor they usually fail pretty quickly. It's always best to go for a motor that has at least 10000 RPM.
It's also worth mentioning that the anti-kickback feature on some grinders is a very important feature as it lowers the change of an accident and reduces the dreaded disc explosion that at 11000rpm can be deadly.
Low vibration motors are also a big plus for users that are spending large amounts of time cutting and grinding and if you are going to be using the grinder more frequently you should consider it as important to find one of these models.
Disc Guard
The Disc Guard will offer the operator protection from sparks and dust during work. Keep in mind that the disc guard should be easily adjustable so that you can change its position to keep yourself protected from sparks and debris at all times no matter what position you are working in and without too much effort.
Loud Noise
Angle grinders are noisy by nature due to the grinder causing friction whilst in cutting through or polishing up the metal so we feel it's less important how quiet the motor is because when you are cutting, grinding or polishing it will make a decent amount of noise and there is no way to prevent that. The only solution is to be sensible and wear ear defenders whilst grinding.
Durability
An angle grinder is supposed to handle hardcore tasks day in day out so it's important it's up to the task and has a good working life so the focus should be on finding a tough hard-wearing model with internal as well as external durability.
Buying one with a 3-year warranty and a good reputation would be our advice.
Ergonomics
Don't get an angle grinder that weighs a ton, especially if you are a heavy user. You will find it generates too much stress on your hands, arms, shoulders and even back.
A lightweight and well-balanced tool is much easier to control and can give you a better-finished cut or polish. Also, pay attention to the handle of the tool. It shouldn't be made of cheap plastic, or it will bend or break.
Safety
Always wear the appropriate PPE: safety goggles, tough overhalls, ear defenders and a good pair of protective gloves.
In my years working on various work sites from building sites to industrial sites, I have witnessed a wide range of injuries that could have been prevented.
I witnessed a workmate get a metal shard fired into his eye from grinding without goggles and he eventually had to have his eye removed.
I have also seen many injuries that could have been prevented and seen some serious wounds from people being careless and not having the safety guard set upright.
Our Final Thoughts on Angle Grinders
We hope that our knowledge and expertise will help you find the perfect grinder.
If you are still unsure of anything or you are interested in soaking up some more information on the subject of the best angle grinders, please do comment below and we will use our combined experience of 50 years of using power tools to help you make the right decision when trying to find the best angle grinder.
More power tool reviews
Best electric chainsaw buyers guide
The Best Reciprocating Saw Buyers Guide Reviews
Best Belt Sander Buyers Guide and Reviews
Best Router Table Buying Guide and Reviews
Best Drill Press Buyers Guide and Reviews
ABOUT JOHN LEWSAM I am a 40-year-old qualified electrician with many years experience in the trade and many more years in trades that have required me to use a massive variety of power tools. I have over 20 years of power tools experience. Read more about me